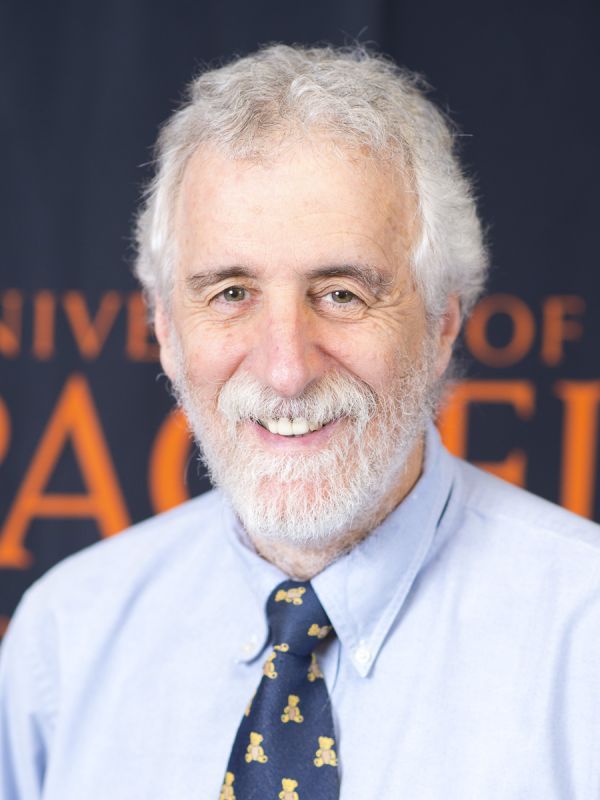 At Pacific Since: 2006
Eric G. Boyce, PharmD, originally from Canada, earned both his bachelor of science in pharmacy and his doctor of pharmacy from University of Utah. Dr. Boyce also completed a hospital residency at the University of Utah, adding to his experiences as a community pharmacist, hospital pharmacist, and clinical pharmacist. Prior to joining the University of the Pacific, he served as an adjunct faculty member at the University of Utah's College of Pharmacy from 1976 to 1980, as faculty member at the Philadelphia College of Pharmacy from 1984 to 2003, and as the Assistant Dean for Assessment at Wingate University's School of Pharmacy from 2003 to 2006.
His passion is helping students develop into leading health care professionals by imparting a strong knowledge base and the ability to effectively communicate. He helps students foster the skills needed to problem solve and care for patients in a professional manner. His goal is to provide an excellent experience for students that enables them to reach their full potential and explore the many possibilities for a career in helping to improve the well-being of others.
In addition to students, Dr. Boyce works with the faculty to help them improve their abilities to teach, serve and meet their career goals. His aim for the overall doctor of pharmacy program is for the students to have the resources needed to succeed academically and obtain the highest level of scholarship. He is inspired by his patients, students, colleagues and teachers.
Dr. Boyce is a member of the American Association of Colleges of Pharmacy and the American College of Clinical Pharmacy. He originally went into the field of pharmacy because two of his friends were studying to become pharmacists. Outside of the classroom, Dr. Boyce enjoys running, hiking, golfing and photography.
Education
BS in Pharmacy, University of Utah, 1975
PharmD, University of Utah, 1984
Teaching Interests
Teaching Philosophy
"To engage students in meaningful and hopefully enjoyable ways to actively learn and apply knowledge, skills and appropriate behaviors."
Courses
PHAR 543 - ICS Women's, Men's and Genitourinary Disorders
PHAR 641 - ICS Immune, Inflammatory and Pain Disorders
PRAC 172 - Social Determinants of Health and Health Disparities
Research Focus
Research Summary
"I am interested in better understanding factors associated with student success and learning. Additionally, I am interested in understanding the benefits and risks associated with drug therapy in the treatment of arthritis and other disorders of joints and connective tissue."
Research Interests
Educational Outcomes and Assessment
Rheumatology Therapeutics
Scholarly Activity
Full-text articles can be found at ResearchGate
Boyce EG, Harris CS, Bingham AL, Chan EK, Chapman SA, Dy-Boarman EA, Haines ST, Heavner MS, Holsen MR, Marcus K, Smith SE, Strnad K, Yunker NS. American College of Clinical Pharmacy White Paper: Striving for excellence in experiential education. J Am Coll Clin Pharm. 2020;3:678–91.
Vyas D, Chen M, Boyce EG, Galal SM, Rogan RL, Maker J. Training students on the Pharmacist Patient Care Process using an electronic health record and simulations. Pharm Educ. 2019;19(1):374-80.
Sweet BV, Assemi M, Boyce E, DiVall MV, Garavalia LS, Gortney J, McCollum M, Roberts RM. Characterization of PCOA use across accredited colleges of pharmacy. Am J Pharm Educ. 2019;83(7):Article 7091.
Jasti BR, Livesey JC, Oppenheimer PR, Boyce EG. Strategic planning: development, implementation and assessment in a pharmacy program. Am J Pharm Educ. 2019;83(6):Article 6899.
Alston GL Marsh W, Castleberry AN, Kelley KA, Boyce E. Pharmacists opinions of the value of specific applicant attributes in hiring decisions for entry-level pharmacists. Res Social Adm Pharm. 2019;15:536-45.
Vyas D, Galal S, Rogan E, Boyce EG. Developing vaccine advocates: training students to address vaccine hesitancy and/or refusal. Am J Pharm Educ. 2018;82(8):Article 6338.
Boyce, EG, Rogan EL, Vyas D, Prasad N, Mai Y. Sarilumab: Review of a second IL-6 receptor antagonist indicated for the treatment of rheumatoid arthritis. Ann Pharmacotherapy. 2018,52(8):780-91.
Boyce EG, Mai Y, Pham C. Abaloparatide: review of a next generation parathyroid hormone agonist. Ann Pharmacotherapy. 2018;52(5):462-72.
Alston GL, Marsh WA, Castleberry AN, Kelley KA, Boyce EG. Pharmacists' opinions of the value of CAPE Outcomes in hiring decisions. Am J Pharm Educ. 2017;81(10):Article 6112.
Valle-Oseguera CS, Boyce EG. Dentists and pharmacists: paradigm shifts and interprofessional collaborative practice models. J Calif Dent Assoc. 2015:43(10):591-5. Reprinted in Calif Pharm. 2016;63(4):38-42.
Boyce EG. The Pharmacists' patient care process and more. Am J Pharm Educ. 2017;81(4):Article 62.
ACCP, Schwinghammer TL, Crannage AJ, Boyce EG, Bradley B, Christensen A, Dunnenberger H, Fravel M, Gurgle H, Hammond DA, Kwon J, Slain D, Wargo K. The 2016 Pharmacotherapy Didactic Curriculum Toolkit. Pharmacotherapy. 2016 Nov;36(11):e189-e194.
Boyce EG, Vyas D, Rogan EL, Valle-Oseguera CS, O'Dell KM. Impact of tofacitinib on patient outcomes in rheumatoid arthritis: review of clinical studies. Patient Related Outcome Measures. 2016;7:1-12.