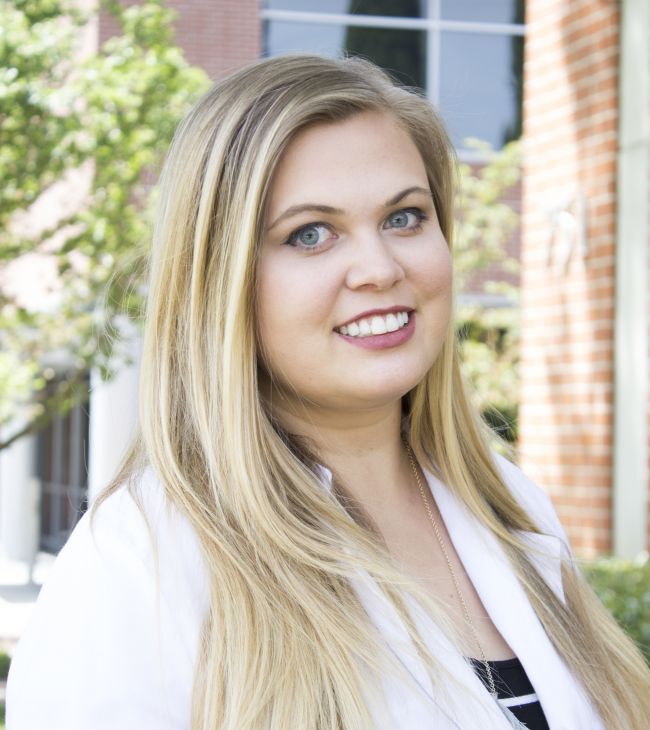 Assistant Clinical Professor,
At Pacific Since: 2016
Erica Barr, PharmD earned her doctor of pharmacy from University of Arkansas for Medical Sciences College of Pharmacy in Little Rock, Arkansas. She completed an acute care residency at Christian Hospital in St. Louis, Missouri, and earned a teaching certificate from St. Louis College of Pharmacy. Dr. Barr is a member of the American College of Clinical Pharmacy, the American Pharmacists Association and the American Society of Hospital Pharmacists.
From a young age, Dr. Barr wanted to pursue a career in teaching. Her interest in health care led her to choose a career in pharmacy. Since high school, she has been involved in volunteer clinics that provide free health care.
The key factors that motivated her to pursue a faculty position at Pacific were the strong reputation of the well-established pharmacy program and the caliber of students, as evidenced by high residency match rates. At Pacific, she is able to combine her love of teaching and love of medicine to help mold future health care professionals. Her goal is to integrate active learning styles into a traditional lecture setting.
An avid traveler, she has visited all 50 states and has been to over 20 countries. After completing her residency, she spent three weeks in Greece, including a week spent sailing amongst the Greek Islands. In addition to sailing, Dr. Barr is passionate about mastering new vegan recipes and hopes to start a vegan YouTube cooking channel.
She loves animals and has been actively involved with charities that work with animals, including training service dogs for disabled families and helping with local pet adoptions. She also enjoys watching international soccer and has a strange talent for escaping from 'escape rooms' in record times.
Education
PharmD, University of Arkansas for Medical Sciences College of Pharmacy
Acute Care PGY1 Residency, Christian Hospital, St. Louis
Teaching Certificate, St. Louis College of Pharmacy
Teaching Interests
Teaching Philosophy
"Improved patient outcomes should be the top priority of anyone working toward a career in the health care field. At times, the stress of graduate school work shifts the focus of pharmacy school from true evidence-based learning to achieving high grades and passing board exams. I tailor my lectures and topic discussions to what the students are most likely to experience in practice and provide them with interesting and relatable clinical examples. During the lecture, I involve my classes in a variety of active learning opportunities to encourage participation and to offer a broad spectrum of learning principles to serve the variety of learning styles within any classroom."
"The majority of my active learning strategies involve patient cases to stimulate patient-care based discussion, which serves as both real-world practice and exam/NAPLEX preparation. I also conclude my lectures by including a list of NAPLEX 'clinical pearls' for them to review while preparing for the test so that they can remain primarily focused on patient care in the classroom. Additionally, by including any updated guidelines and newly approved medications into every applicable lecture, I demonstrate how frequently and quickly the field of pharmacy changes and how lifelong learning is essential to optimal patient care."
Courses
PHRM 157 — Ther IV Renal/Respiratory Lecture
PHRM 158 — Practicum III