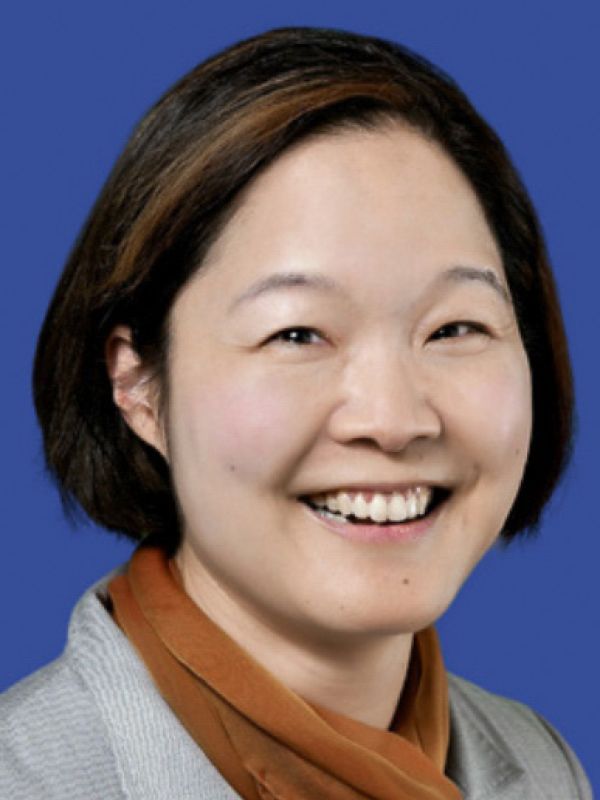 Professor
Chair, Department of Pharmacy Practice
At Pacific Since: 2001 - 2010, 2022
Jessica Song, PharmD, FCSHP first joined Pacific as an assistant professor of pharmacy practice in 2001. While at the School, she taught the renal and respiratory care course then accepted a promotion as associate professor and regional coordinator for the San Jose Region providing guidance for many of our students during their Advanced Pharmacy Practice Experience rotations. She was named Pharmacy Teacher of the Year in 2003.
After 10 years of service at Pacific, Dr. Song accepted a position with the Santa Clara Valley Medical Center (SCVMC) where she served as a PGY1 residency coordinator and later as the pharmacy supervisor for their clinical ambulatory care division, managing nearly 35 pharmacists and staff. She retired from SCVMC after 11 years of service and accepted a position as a Clinical Trials Director at Cipherome, Inc.  
Dr. Song earned her bachelor of arts in chemistry from University of Washington, her master of arts in physical chemistry from Johns Hopkins University, and her doctor of pharmacy from University of California, San Francisco. She also completed a PGY1 residency at University of Connecticut Health Center and a cardiovascular therapeutics fellowship at Hartford Hospital. She has more than twenty publications in peer-reviewed journals and over thirty poster presentations at international and national conferences. Her areas of interest include cardiovascular therapeutics, drug literature, asthma and infectious disease.
She is a member of the American Society of Health-System Pharmacists (ASHP) and the California Society of Health-System Pharmacists (CSHP). She was a recipient of the ASHP Research and Education Foundation Award in 2004, named a Fellow of CSHP in 2007 and received an honorable mention for the CSHP Innovative Pharmacy Practice Award in 2019. Dr. Song served as president of the Quatra Chapter of CSHP in 2016.
Dr. Song enjoys cooking and traveling in her spare time – she is famous for her Korean barbecue and japchae. Other interests include classical music, fashion and art.
Education
Master of Arts, Physical Chemistry, Johns Hopkins University, 1993
PharmD, University of California, San Francisco, 1998
PGY1 Residency, University of Connecticut Health Center, 1999
Fellowship, Cardiovascular Therapeutics, Hartford Hospital, Connecticut, 2001
Teaching Interests
Teaching Philosophy
"The best way to describe my teaching philosophy is to borrow a quote from Claire Fagin: 'Knowledge will bring you the opportunity to make a difference.' I taught and mentored a few hundred students and residents during my 24-year career as a pharmacist. My students have improved the health of thousands of patients in a variety of practice sites – hospitals, ambulatory clinics, homeless shelters and community pharmacies. I continue to enjoy teaching, knowing that I will allow for more patients to receive optimal care from a new generation of pharmacist practitioners."
Courses
Cardiology II
Infectious Diseases II
Research Focus
Research Summary
Assessing the effects of drugs and pharmacogenomics on health outcomes of ethnically diverse patients.
Research Interests
Cardiovascular Therapeutics
Pharmacogenomics
Public Health
Scholarly Activity
Silberman H, Mochizuki-Tamayo H, Chiang J, Estabil J, Park K, Song J. Evaluating Pharmacogenomic Variants for Cardiology Therapeutics. Platform Presentation: Precision Medicine World Conference. June 2022. San Jose, CA.
Ito M, Song JC. Expansion of Clinical Pharmacy Services in a County Homeless Program. Poster Presentation: California Society of Health-Systems Pharmacists Seminar Meeting. October 2019, Anaheim, CA.
Tran A, Hill CJ, Song JC, Yoon J, Singh N. Impact of switching poorly controlled patients on warfarin to rivaroxaban – focus on adherence and workflow. Poster Presentation: American-Society of Health Systems Pharmacists Annual Midyear Clinical Meeting. December 2018. Anaheim, CA.
Cardiac Arrhythmias Book Chapter In: Zeinde CS, Carvalho MG, eds. Applied Therapeutics: The Clinical Use of Drugs, 11th ed. Philadelphia: Lippincott Williams and Wilkins. · Dec 1, 2017
Song JC, Stevens DA. Caspofungin: Pharmacodynamics, pharmacokinetics, clinical uses and treatment outcomes. Crit Rev Microbiol. 2016 Sep;42(5):813-46. doi: 10.3109/1040841X.2015.1068271. Epub 2015 Sep 15. PMID: 26369708.
Truong L, Aung G, Nieh J, Patel R, Mirels L, Song J. Evaluation of Vancomycin dosing in obese patients.
Poster Presentation: Infectious Disease Society of America 48th Annual Meeting, Abstract 4126. October 2010. Vancouver, Canada.
Wang C, Song JC,  Wentzien W, Patel R. A pilot study of the QT- prolonging effects of intravenous moxifloxacin in an ethnically diverse, patient population from a publicly funded teaching hospital. Poster Presentation: Infectious Disease Society of America 45th Annual Meeting, Abstract 452. October 2007. San Diego, CA.
Song JC, Wang CC, Huang YC, Sanchez J, Nguyen T, Khan S, Kim MK, Li P. Use of maximum-dose simvastatin or atorvastatin in an ethnically diverse population. Am J Health Syst Pharm. 2007 Apr 1;64(7):767-72. doi: 10.2146/ajhp060106. PMID: 17384364.
Song JC, Deresinski S. Hepatotoxicity of antifungal agents. Curr Opin Investig Drugs. 2005 Feb;6(2):170-7. PMID: 15751740.
Song JC, White CM. Clinical pharmacokinetics and selective pharmacodynamics of new angiotensin converting enzyme inhibitors: an update. Clin Pharmacokinet. 2002;41(3):207-24. doi:10.2165/00003088-200241030-00005. PMID: 11929321.
Song JC, White CM. Pharmacologic, pharmacokinetic, and therapeutic differences among angiotensin II receptor antagonists. Pharmacotherapy. 2000 Feb;20(2):130-9. doi: 10.1592/phco.20.3.130.34788. PMID: 10678291.