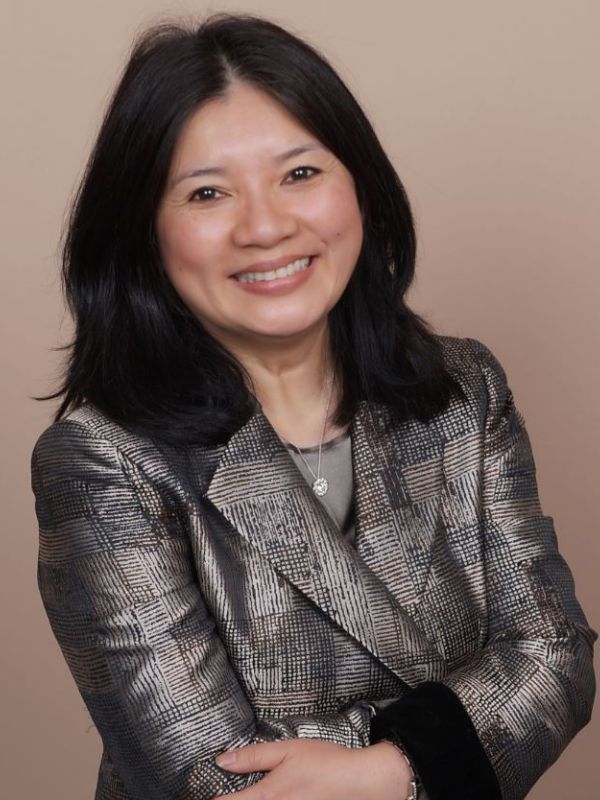 At Pacific Since: 2004
Kate M. O'Dell, PharmD, BCPS earned her doctor of pharmacy from University of Michigan, Ann Arbor. She also completed a fellowship in pharmaceutical outcomes research at Henry Ford Hospital in Detroit. She is a member of the California Society of Health-System Pharmacists, the American Society of Health-System Pharmacists, the American Association of Colleges of Pharmacy and the Board of Pharmaceutical Specialties.
Dr. O'Dell joined the Pacific pharmacy family in 2004. She appreciates that at Pacific there is an emphasis on student-focused teaching and learning. She is impressed by the high caliber of the student leadership and organizations. Dr. O'Dell makes it a priority to mentor students so that they can achieve the highest level of academic success and be prepared to embark on their profession as practicing pharmacists. She thinks highly of the sense of collaboration and camaraderie among her peers.
Born into an immigrant family, Dr. O'Dell is the youngest of four siblings. She carries with her the spirit of her parents who developed her dedication, integrity and respect. In her free time Dr. O'Dell enjoys spending time with her family and gardening.
Education
PharmD, University of Michigan, 1999
PostDoc, Pharmaceutical Outcomes Research Fellowship, Henry Ford Hospital, Detroit, Michigan
Teaching Interests
Teaching Philosophy
"The proverb: 'Give a man a fish and you feed him for a day; teach a man to fish and you feed him for a lifetime' resonates with me in life and in teaching. My teaching philosophy is formed on three principles: problem solving, application, and discovery. Problem solving emphasizes on the how and why, rather than rote memorization of facts. Application provides learners with opportunities to employ the knowledge and skills to find answers to their questions. Discovery molds students to become independent lifelong learners, as they seek to explore the unknown."
Courses
PHAR 241 — Nonprescription Therapy and Self-Care
PHAR 555 — Hospital IPPE
Research Focus
Research Interests
Clinical outcomes
Pharmaceutical care services
Academic outcomes
Scholarly Activity
Shah SA, Occiano A, Nguyen TA, Chan A, Sky JC, Bhattacharyya M, O'Dell KM, Shek A, Nguyen NN. Electrocardiographic and blood pressure effects of energy drinks and Panax ginseng in healthy volunteers: A randomized clinical trial. Int J Cardiol. 2016 Sep 1;218:318-323. doi: 10.1016/j.ijcard.2016.05.007. Epub 2016 May 13. PMID: 27240158.
Boyce EG, Vyas D, Rogan EL, Valle-Oseguera CS, O'Dell KM. Impact of tofacitinib on patient outcomes in rheumatoid arthritis - review of clinical studies. Patient Relat Outcome Meas. 2016 Jan 14;7:1-12. doi: 10.2147/PROM.S62879. PMID: 26834501; PMCID: PMC4716749.
Vyas D, O'Dell KM, Bandy JL, Boyce EG. Tofacitinib: The First Janus Kinase (JAK) inhibitor for the treatment of rheumatoid arthritis. Ann Pharmacother. 2013 Nov;47(11):1524-31. doi: 10.1177/1060028013512790. PMID: 24285764.
O'Dell KM, Shah SA. Evaluation of pharmacy practice residents' research abstracts and publication rate. J Am Pharm Assoc (2003). 2012 Jul-Aug;52(4):524-7. doi: 10.1331/JAPhA.2012.10224. PMID: 22825234.
O'Dell KM, Igawa D, Hsin J. New oral anticoagulants for atrial fibrillation: a review of clinical trials. Clin Ther. 2012 Apr;34(4):894-901. doi: 10.1016/j.clinthera.2012.01.019. Epub 2012 Mar 13. PMID: 22417716.
O'Dell KM, Rummel AE. Tofacitinib: a Janus kinase inhibitor for the treatment of rheumatoid arthritis. Formulary. 2012; 47:350-8.
O'Dell KM, Rummel AE, Fang NC, Nguyen NN. Linaclotide: a guanylate cyclase type-C agonist for the treatment of constipation-predominant irritable bowel syndrome and chronic constipation. Formulary. 2012; 47:15-22.
Draskovich C, O'Dell KM. Dronedarone for atrial fibrillation: An update of  clinical evidence. Formulary. 2010; 45:276-283.
Jennings DL, Kalus JS, O'Dell KM. Aldosterone receptor antagonism in heart failure. Pharmacotherapy. 2005 Aug;25(8):1126-33. doi: 10.1592/phco.2005.25.8.1126. PMID: 16207104.
O'Dell KM, Kucukarslan SN. Impact of the clinical pharmacist on readmission in patients with acute coronary syndrome. Ann Pharmacother. 2005 Sep;39(9):1423-7. doi: 10.1345/aph.1E640. Epub 2005 Jul 26. PMID: 16046491.
O'Dell KM, Kalus JS, Kucukarslan S, Czerska B. Nesiritide for secondary pulmonary hypertension in patients with end-stage heart failure. Am J Health Syst Pharm. 2005 Mar 15;62(6):606-9. doi: 10.1093/ajhp/62.6.606. PMID: 15757881.