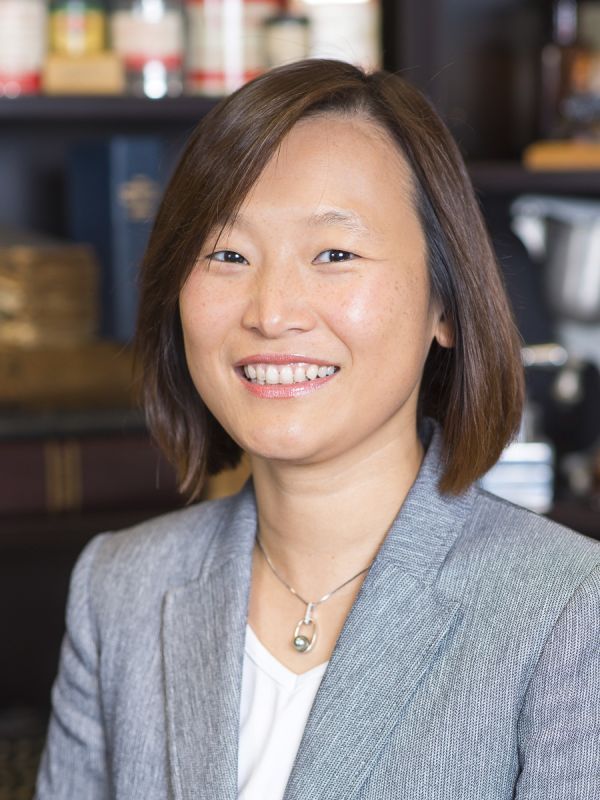 At Pacific Since: 2004
Miki Susanto Park, PhD earned a bachelor of science in biochemistry from University of Texas, Austin in 1997. She received her doctor of philosophy in pharmaceutical chemistry from University of California, San Francisco in December 2002. She then worked for Genentech as an associate scientist until 2004 before coming to University of the Pacific.
Dr. Park loves the student-centered learning environment at Pacific and values her relationships with her colleagues. She appreciates that Pacific fosters an environment where faculty are able to perform independent research.
Dr. Park was born in Indonesia and moved to New York in 1993. She likes Stockton for its close proximity to many places to explore, including San Francisco, Lake Tahoe and Yosemite. Her hobbies include reading and spending time with her two sons. Dr. Park is also an avid traveler.
Education
BS, University of Texas at Austin, 1997
PhD, University of California, San Francisco, 2002
Teaching Interests
Teaching Philosophy
"To inspire, motivate and help students gain knowledge and conceptual understanding on the subject matter being taught and to foster their critical thinking and problem solving skills that will enable them to apply what they have learned to solve real life problems."
Courses
PCSP 223 — Pharmacokinetics and Pharmacodynamics
PCSP 207 — Bioanalytical Techniques
PCSP 297/397 — Graduate Research
PCSP 295/395 — Graduate Thesis
PHRM 124 — Drug Metabolism and Disposition
PHRM 157 — Therapeutics IV-Renal/Respiratory
Research Focus
Research Interests:
Drug transporters
Pharmacokinetics

Scholarly Activity
Penchala S, Miller M, Pal A, Dong J, Madadi N, Xie J, Joo H, Tsai J, Batoon P, Samoshin V, Franz A, Cox T, Miles J, Chan W, Park M, Alhamadsheh M. A biomimetic approach for enhancing the in vivo half-life of peptides (accepted). Nat Chem Biol.
Xie J, Huang X, Park MS, Pham HM, Chan WK.  Differential suppression of the aryl hydrocarbon receptor nuclear translocator-dependent function by an aryl hydrocarbon receptor PAS-A-derived inhibitory molecule.  Biochemical Pharmacology (2014) 88: 253-265.
Penchala SC, Connelly S, Wang Y, Park MS, Zhao L, Baranczak A, Rappley I, Vogel H, Liedtke M, Witteles RM, Powers ET, Reixach N, Chan WK, Wilson IA, Kelly JW, Graef IA and Alhamadsheh MM. AG10 inhibits amyloidogenesis and cellular toxicity of the familial amyloid cardiomyopathy-associated V122I transthyretin. Proc Natl Acad Sci U S A. 2013 Jun 11;110(24):9992-7.
Park MS and Chang JH. Absorption of Drugs via Passive Diffusion and Carrier-Mediated Pathways in Oral Bioavailability: Basic Principles, Advanced Concepts and Applications, Hu, M and Li, X, Eds. John Wiley & Sons (2011).
Chang JH, Uchizono JA and Park MS. Efflux of Drugs via Transporters: The "Anti-absorption" Pathways in Oral Bioavailability: Basic Principles, Advanced Concepts and Applications.  Hu, M and Li, X, Eds. John Wiley & Sons (2011).
Park MS, Okochi H and Benet LZ. Is Ciprofloxacin a substrate of P-glycoprotein? Arch Drug Inf. 2011 Mar;4(1):1-9.
Park MS, Chu F, Xie J, Wang Y, Bhattacharya P and Chan WK. Identification of cyclophilin-40 interacting proteins reveals potential cellular function of cyclophilin-40. Analytical Biochemistry 2011 Mar 15; 410(2): 257-265.  Epub 2010 December 10.
Nguyen PM, Park MS, Chow M, Chang JH, Wrischnik L and Chan WK.  Benzo[a]pyrene increases the Nrf2 content by downregulating the Keap1 message.  Toxicol Sci. 2010 Aug;116(2):549-61. Epub 2010 May 23.
Susanto M and Benet LZ. Can the enhanced renal clearance of antibiotics in cystic fibrosis patients be explained by P-glycoprotein transport? Pharm Res 19(4):457-62 (2002).
Flanagan SD, Cummins CL, Susanto M, Liu X, Takahashi LH and Benet LZ. Comparison of furosemide and vinblastine secretion from cell lines overexpressing multidrug resistance protein (P-glycoprotein) and multidrug resistance-associated proteins (MRP1 and MRP2). Pharmacology 64(3):126-34 (2002).
Soldner A, Christians U, Susanto M, Wacher VJ, Silverman JA and Benet LZ. Grapefruit juice activates P-glycoprotein-mediated drug transport.  Pharm Res 16(4):478-85 (1999).