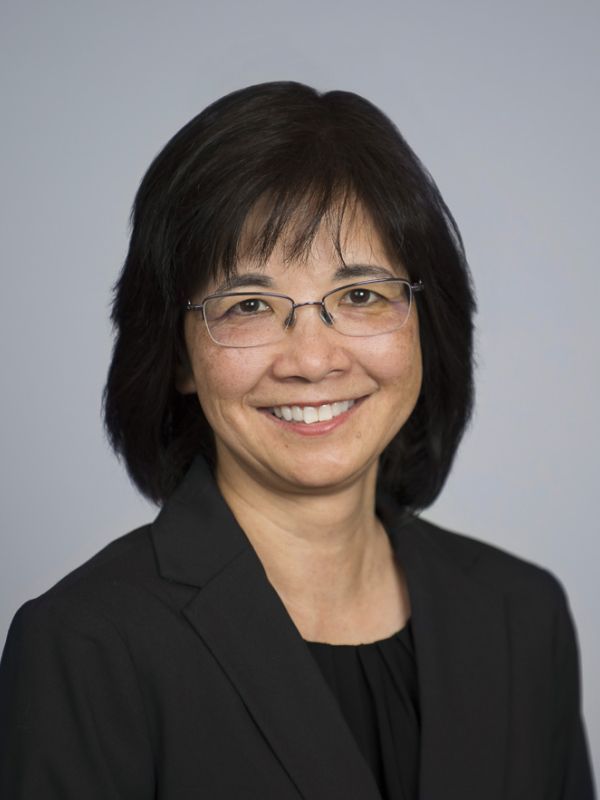 Rae R. Matsumoto, PhD earned her bachelor of science in biology and psychology from Creighton University. She earned her master of science in psychology and doctor of philosophy in psychology from Brown University. Dr. Matsumoto completed postdoctoral training in psychology and biochemistry at Brown University and postdoctoral training in physiology at Northwestern University.
She has more than 20 years of administrative experience building collaborative, multidisciplinary educational programs. She brings a deep and broad perspective of changes in pharmacy practice to ensure the School's programs meet the educational and research needs of students and faculty.
Prior to Pacific, Dr. Matsumoto served as dean of the College of Pharmacy at Touro University California. Previously, she was associate dean for research and graduate programs for the School of Pharmacy at West Virginia University. Under her leadership, the biomedical graduate program expanded and the school garnered record-high research funding. Dr. Matsumoto's experience also includes serving as professor and founding director of the Center for Research Excellence in Natural Products Neuroscience at University of Mississippi. She has also held faculty and administrative roles at University of Oklahoma Health Sciences Center and University of California, Irvine.
An educator and scientist, Dr. Matsumoto's extensive research experience has focused on the development of pharmaceutical treatments for neurological and psychiatric disorders, in particular the relationship between cellular mechanisms and therapeutic effects. Over the course of her career she applied for seven patents.
She is a member of the Academy of Managed Care Pharmacy, the American Association of Colleges of Pharmacy, the American Society of Pharmacology and Experimental Therapeutics, the California Pharmacists Association, the California Society of Health-System Pharmacists and the Society for Neuroscience.
Education
BS in Biology and Psychology, Creighton University, 1985
ScM in Psychology, Brown University, 1987
PhD, Psychology, Brown University, 1989
Postdoctoral training in Psychology and Biochemistry, Brown University, 1989-1990
Postdoctoral training in Physiology, Northwestern University, 1990-1992
Research Focus
Scholarly Activity
Ansari, M. I., Healy, J. R., Hom, K.,Deschamps, J.R., Matsumoto, R. R. and Coop, A. (2018) Synthesis and structural elucidation of a pyranomorphinan opioid and in vitro studies. Organic Letters 20: 2984-2987. (PMID: 29737176)
Nguyen, L., Lucke-Wold, B. P., Mookerjee, S., Kaushal, N., and Matsumoto, R. R. (2017) Sigma-1 receptors and neurodegenerative diseases: Towards a hypothesis of sigma-1 receptors as amplifiers of neurodegeneration and neuroprotection. Advances in Experimental Medicine and Biology 964: 133-152. (PMID: 28315269)
Nguyen, L., Scandinaro, A.L. and Matsumoto, R. R. (2017) Deuterated (d6)-dextromethorphan elicits antidepressant-like effects in mice. Pharmacology, Biochemistry and Behavior 161: 30-37. (PMID: 28916283)
Palisoc, A. J. L., Matsumoto, R. R., Ho, J., Perry, P. J., Tang, T. T. and Ip, E. J. (2017) Relationship between grit with academic performance and attainment of postgraduate training in pharmacy students. American Journal of Pharmaceutical Education 81: 67. (PMID: 28630508)
Turner, R. C., Naser, Z. J., Lucke-Wold, B. P., Logsdon, A. F., Vangilder, R. L., Matsumoto, R. R., Huber, J. D., Rosen, C. L. (2017) Single low-dose lipopolysaccharide preconditioning: neuroprotective against axonal injury and modulates glial cells. Neuroimmunology and Neuroinflammation 4: 6-15. (PMID: 28164149)
Healy, J. R., Bezawada, P., Griggs, N. W., Devereaux, A. L., Matsumoto, R. R., Traynor, J. R., Coop, A. and Cunningham, C. W. (2017) Benzylideneoxymorphone: A new lead for development of bifunctional mu/delta opioid receptor ligands. Bioorganic and Medicinal Chemistry Letters 27: 666-669. (PMID: 28011222)
Taylor, C. P., Traynelis, S. F., Siffert, J., Pope, L. E. and Matsumoto, R. R. (2016) Pharmacology of dextromethorphan: relevance to dextromethorphan/quinidine (Nuedexta) clinical use. Pharmacology and Therapeutics 164: 170-182. (PMID: 27139517)
Nguyen, L., Lucke-Wold, B. P., Logsdon, A. F., Scandinaro, A. L., Huber, J. D. and Matsumoto, R. R. (2016) Behavioral and biochemical effects of ketamine and dextromethorphan relative to its antidepressant-like effects in Swiss Webster mice. NeuroReports 27: 1004-1011. (PMID: 27580401)
Logsdon, A. F., Lucke-Wold, B. P., Nguyen, L., Matsumoto, R. R., Turner, R. C., Rosen, C. L. and Huber, J. D. (2016) Salubrinal reduces oxidative stress, neuroinflammation and impulsive-like behavior in a rodent model of traumatic brain injury. Brain Research 1643: 140-151. (PMID: 27131989)
Nguyen, L., Lucke-Wold, B. P., Thomas, K., Scandinaro, A. L. and Matsumoto, R. R. (2016) Dextromethorphan: an update on its utility for neurological and neuropsychiatric disorders. Pharmacology and Therapeutics 159: 1-22. (PMID: 26826604)
Lucke-Wold, B. P., Nguyen, L., Turner, R. C., Logsdon, A. F., Chen, Y.-W., Smith, K. E., Huber, J. D., Matsumoto, R., Rosen, C. L., Tucker, E. S. and Richter, E. (2015) Traumatic brain injury and epilepsy: underlying mechanisms leading to seizure. Seizure 33: 13-23. (PMID: 26519659)
Nguyen, L., Mookerjee, S. A., Lucke-Wold, B. P., Cavendish, J. Z., Robson, M. J., Scandinaro, A. L. and Matsumoto, R. R. (2015) Role of sigma-1 receptors in neurodegenerative diseases. Journal of Pharmacological Sciences 127: 17-29. (PMID: 25704014)
Nguyen, L., Weaver, C. B., Cramer, K. J., Pollard, S. E., Marshalek, P. J. and Matsumoto, R. R. (2015) Off-label use of transmucosal ketamine as a rapid acting antidepressant: a retrospective chart review. Neuropsychiatric Disease and Treatment 11: 2667-2673. (PMID: 26508862)
Nguyen, L. and Matsumoto, R. R. (2015) Involvement of AMPA receptors in the antidepressant-like effects of dextromethorphan in mice. Behavioral Brain Research 295: 26-34. (PMID: 25804358)