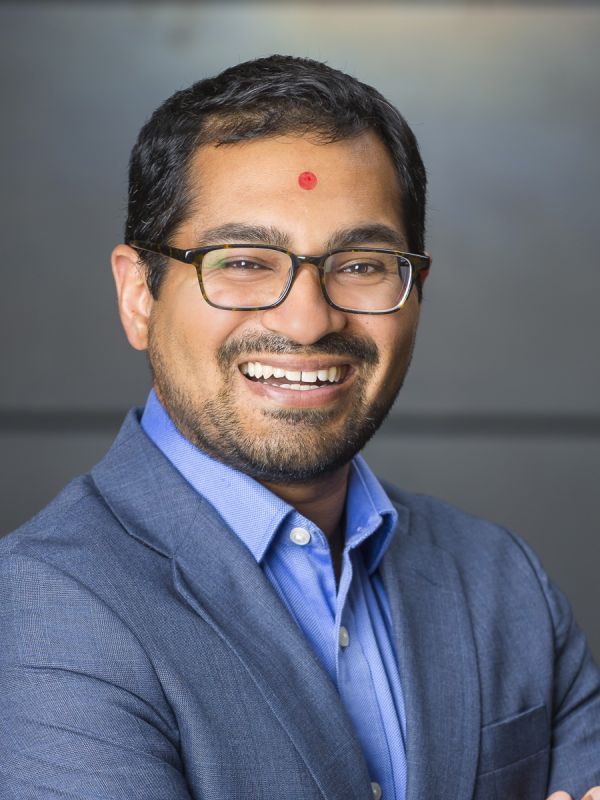 Professor
Regional Coordinator - Travis Air Force Base
Director of Pharmacy Research and Education - Travis Air Force Base
At Pacific Since: 2007
Sachin A. Shah, PharmD, FACC, FAHA earned a doctor of pharmacy from Massachusetts College of Pharmacy and Health Sciences in Boston. He completed a cardiovascular pharmacology fellowship at Hartford Hospital/University of Connecticut. He joined the Pacific family in 2007 as regional coordinator at Travis Air Force Base. He is currently also in charge of Pharmacy Research and Education at Travis AFB. He has over 50 research publications/book chapters.
Dr. Shah is director of the Innovative Clinical and Outcomes Research (iCOR) lab that specializes in conducting novel dietary supplement and device trials. iCOR also serves as a training program for students pursuing careers in the pharmaceutical industry. Dr. Shah is co-director of the Fellowship in Industry Program (FIP) which specializes in post-doctoral training for pharmacists in drug development and trial design.
In 2015, Dr. Shah was a presenter at TEDxUCDavisSF held in San Francisco. His presentation "Power of the Mind" explored the subjects of "mind as medicine" and how to control one's mind. Dr. Shah is fascinated by the intersection of science and spirituality. He also enjoys hiking.
Education
PharmD, Massachusetts College of Pharmacy and Health Sciences, 2005
Fellowship in Cardiovascular Pharmacology, Hartford Hospital/University of the Connecticut
Teaching Interests
Teaching Philosophy
"Teaching happens when learning happens."
Courses
PHRM 172 — Ambulatory Care APPE
PHRM 184 — Industry Elective APPE
Research Focus
Research Summary
"Assess the impact of drugs, dietary supplements and devices on health outcomes."
Research Interests
Enhanced external counter pulsation (EECP)
Utility of central blood pressure in disease assessment and management
Energy drinks, caffeine and supplements
Scholarly Activity
Radel JA, Pender DN, Shah SA. Dipeptidyl Peptidase-4 Inhibitors and Inflammatory Bowel Disease Risk: A Meta-analysis. Ann Pharmacother. 2019 Jan 30. [Epub ahead of print]
 
Pender DN, Crawford PF, Clark JM, Crawford AJ, Prats AA, Shah SA. Effect of water-soluble cinnamon extract on electrocardiographic parameters: An analysis of the CiNNaMON trial. Complement Ther Med. 2018 Dec;41:302-305.
 
Lin CA, Shah K, Mauntel LCC, Shah SA. Drone delivery of medications: Review of the landscape and legal considerations. Am J Health Syst Pharm. 2018 Feb 1;75(3):153-158.
 
Fletcher EA, Lacey CS, Aaron M, Kolasa M, Occiano A, Shah SA. Randomized Controlled Trial of High-Volume Energy Drink Versus Caffeine Consumption on ECG and Hemodynamic Parameters. J Am Heart Assoc. 2017 Apr 26;6(5).