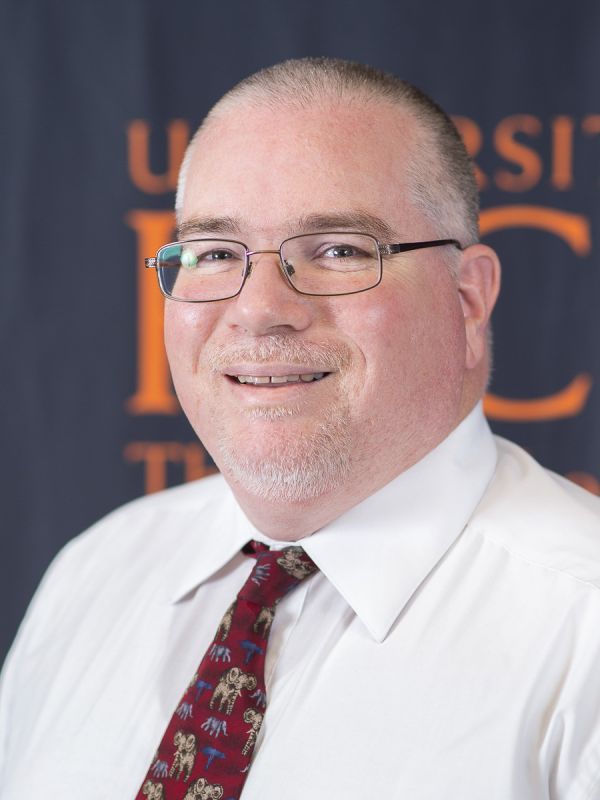 At Pacific Since: 2005
Wade A. Russu, PhD earned a bachelor of science from California Polytechnic State University, San Luis Obispo in 1992 and his doctor of philosophy from University of California, Santa Barbara in 2000. He completed his graduate training at University of California, Irvine at both the Cancer Research Institute and at the Institute for Brain Aging and Dementia. He has been a part of the Pacific family since 2005.
Dr. Russu's passion is for teaching chemistry in the context of pharmacy, which forces the students to think about chemistry from a new perspective. He hopes that when his students discover the practical application of chemistry it will cause them to have a greater interest in the subject. His goal is to provide valuable experience to students through practical research opportunities. The focus of his research is drug discovery for cancer and it is his aim to share those advances with the broader scientific community.
Dr. Russu enjoys problem solving and was drawn to his field of study by a curiosity about drugs and how they work. His career has been shaped by the mentorship of professors R. D. Little and James Nowick. Dr. Russu is a member of the Phi Lambda Upsilon National Honorary Chemical Society, the Rho Chi Pharmaceutical Honor Society, the Alpha Chi Sigma National Chemistry Fraternity, the American Association of Colleges of Pharmacy, the American Association for Cancer Research and the American Association for the Advancement of Science. He is also actively involved in the organic and medicinal chemistry divisions of the American Chemical Society.
Dr. Russu is a California native and comes from a multicultural family. He is one of seven siblings, two of which were adopted from South America. He and his wife have six children, two biological children and four adopted children. He also loves scuba diving and being near the ocean.
Education
BS in Biochemistry, Cal Poly, San Luis Obispo, 1992
PhD in Chemistry, University of California, Santa Barbara, 2000
PostDoc, University of California, Irvine, Cancer Research Institute, 2001-2002
PostDoc, University of California, Irvine, Institute for Brain Aging and Dementia, 2003-2004
Teaching Interests
Teaching Philosophy
"I see my role as a teacher providing the tools, knowledge and insight necessary to facilitate the active and responsible participation of the student in the learning process. I strive to help the student grasp and apply knowledge and concepts and to enlighten them as to their relevancy to the profession of pharmacy. 'Learn by doing' is a unifying learning style that can benefit every student. It gives the student an opportunity to practice critical thinking, to use the skills that are being developed and assess progress. It also provides a sense of satisfaction that goals are being met and positive reinforcement for the student and instructor. In my courses I work toward a 'learn by doing' methodology by providing in class problem solving, as well as discussion/lab sessions, self-assessment problem sets and quizzes. For some topics I provide outside reading material from texts, original research papers and my own topical narratives."
Courses
PCSP 211 — Drug Design
PCSP 208 — Pharmaceutical Analysis
PCSP 203 — Laboratory Management
PCSP 209 — Technical Writing (Writing Mentor)
PCSP 397 — Graduate Research
PHRM 114 — Physical Pharmacy and Dosage Forms
PHRM 145 — Pharmacology & Medicinal Chemistry
Research Focus
Research Summary
One research project concerns the design of drug molecules that target specific mutations in cancer cells in order to slow the growth of and/or kill the cancer cell. Another project attempts to design small pieces of a protein or peptides that can target and deliver toxic drugs specifically to cancer cells."
Research Interests
Drug discovery/design for cancer
Peptides/peptidomimetics as drugs
Scholarly Activity
Shallal, H. M.; Faridi, J. S.; Russu, W. A. "Anti-tumor Pyrimidinylpiperazines bind to prosurvival Bcl-2 protein Family member Bcl-XL." Bioorg. Med. Chem. Lett. 2011, 21, 1325-1328.
Shallal, H. M.; Russu, W. A. "Discovery, Synthesis, and Investigation of the Antitumor Activity of Novel Piperazinylpyrimidine Derivatives." Euro. J. Med. Chem. 2011, 46, 2043-2057.
Phanidhara Kotamraj, Wade A. Russu, Bhaskara Jasti '95, Xiaoling Li, "Novel Integrin-Targeted Binding-Triggered Drug Delivery System for Methotrexate." Pharm. Res. 2011, 28, 3208-3219.
Hashemzadeh, M.; Movahed, M. R.; Russu, W. A.; Soroush, L.; Hill, D. N. "Novel design and synthesis of modified structure of carveldilol." Recent Pat. Cardiovasc. Drug Discov. 2011, 6, 175-179.