Since 1955, the Thomas J. Long School of Pharmacy has been training pharmacists who are problem-solvers, innovators and leaders. The Pre-Pharmacy Advantage Program gives first-time freshmen the opportunity to complete their undergraduate requirements in the same environment as their doctor of pharmacy (PharmD) studies. Our pre-pharmacy program lays a strong foundation, setting you up for success as you pursue a career in pharmacy.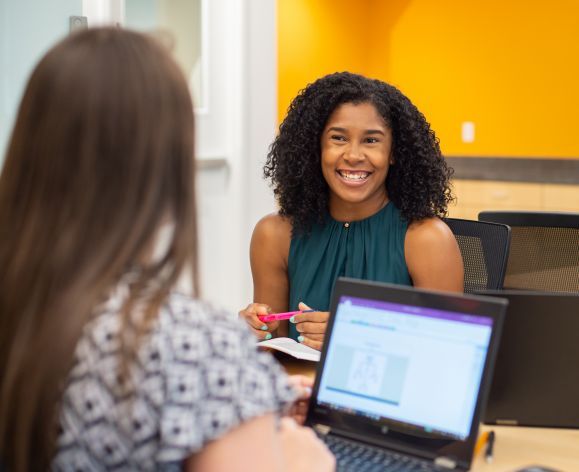 Guaranteed PharmD admission
Pacific offers three freshman admission pathways for completing the Pre-Pharmacy Advantage Program. Each pathway requires a minimum overall 3.0 GPA and a 2.7 GPA in specific math and science courses, in addition to submission of an advancement application, an interview and a writing sample. Completion of these requirements guarantees admission into our PharmD program.
Access to faculty and current students
Our Pre-Pharmacy Advantage Program brings current PharmD and pre-pharmacy students together. You will have access to opportunities, resources and support systems throughout your time at Pacific.
Pathways
Earn your PharmD in as few as five years. Based on academic standings, you will be placed in one of three pathways, completing your PharmD in five, six or seven years.
Five-year (2+3)
Two years of undergraduate study followed by three years of study in the professional PharmD program.
Six-year (3+3)
Three years of undergraduate study followed by three years of study in the professional PharmD program.
Seven-year (4+3)
Four years of undergraduate study, earning a bachelor's degree, followed by three years of study in the professional PharmD program.
Student success is a top priority at Pacific
Our pre-pharmacy curriculum and academic requirements are focused on helping you become a highly-skilled, patient-centered pharmacist. Starting the first semester, you will be assigned a pharmacy faculty member as your academic advisor. They will help you navigate your course load, plan each academic semester and support you every step of the way.
Plenty of opportunities to get involved
Choose from over 150 student organizations. Enjoy some friendly competition by joining an intramural or club team. Rush a fraternity or sorority. We are proud to have two chapters of pharmacy honor societies and four professional pharmacy fraternities.
6
Student chapters of professional organizations
4
Professional pharmacy fraternities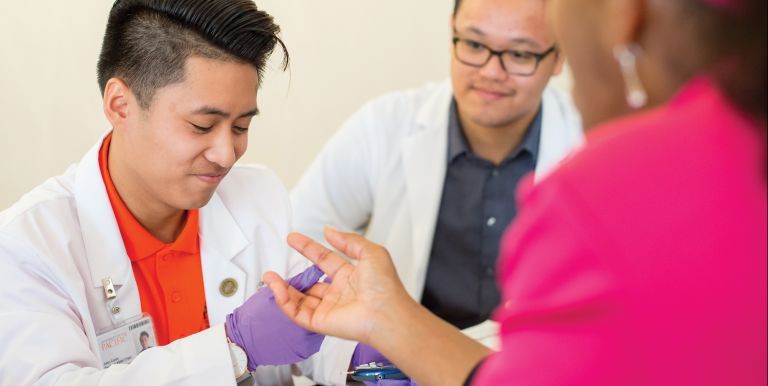 NAPLEX Pass Rate
Pacific PharmD graduates have consistently had a higher first-time pass rate for the North American Pharmacist Licensure Examination (NAPLEX) exam than the national average.
PharmD Outcomes Data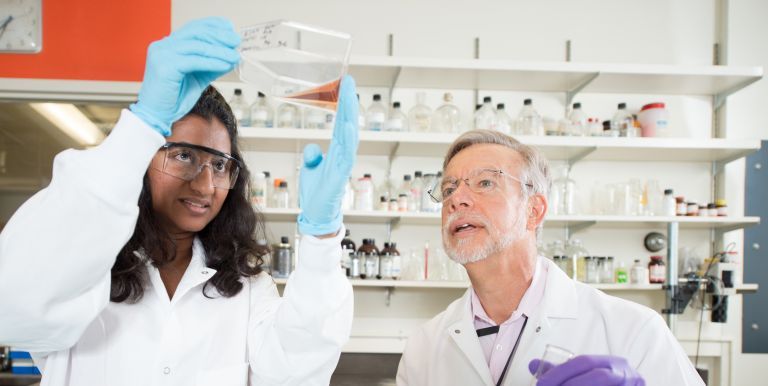 Research Opportunities
At Pacific, you will have the opportunity to work alongside our faculty members on cutting-edge research. Two NIH grant funded research projects are currently underway at the School.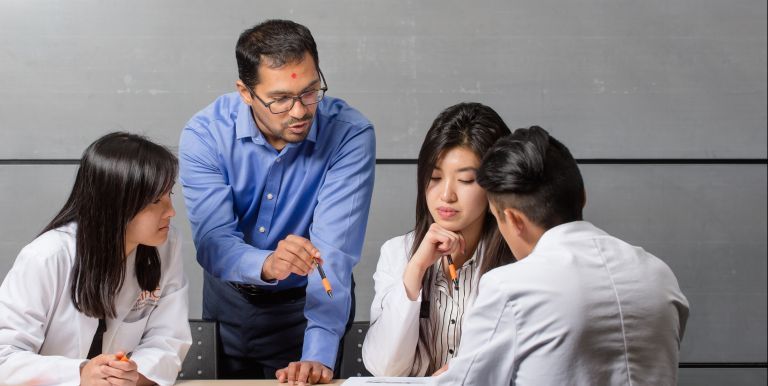 Residency Matches
Pacific ranked in the top 10 percent nationally in postgraduate residencies for the American Society of Health-System Pharmacists Resident Matching Program.
PharmD Outcomes Data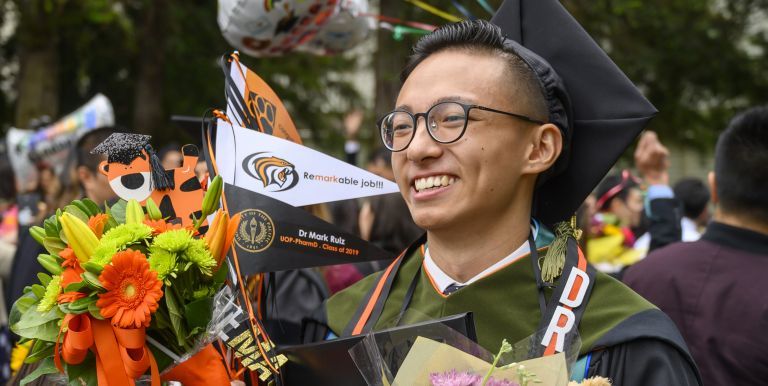 Median Annual Salary
According to the U.S. Bureau of Labor Statistics, the national median annual wage for pharmacists is $128,090 nationally and $144,050 in California.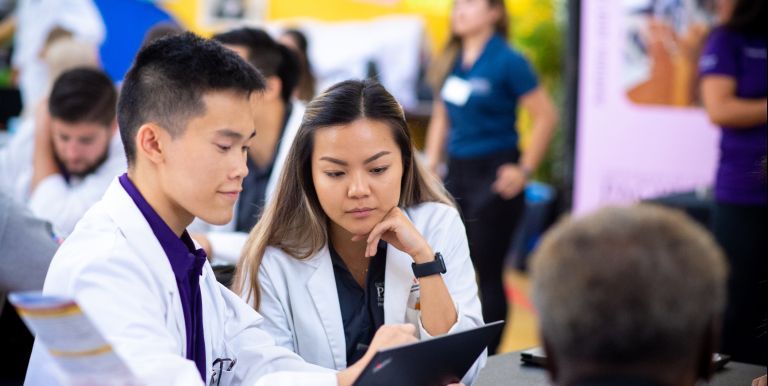 Medicare Part D Outreach Clinics
Since 2007, Pacific's Medicare Part D Outreach Clinics have assisted 8,686 patients with their Medicare Part D drug plan, helping patients save an estimated total of $8.77 million.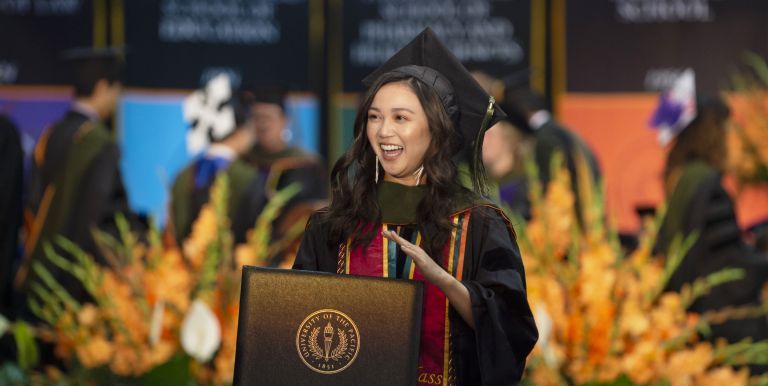 A Smart Investment
Pacific ranked No. 58 out of 4,500 universities for the highest return of investment over the course of your career.
Pharmacy Orientation Course
The Pharmacy Orientation course, known as PharmO, provides pre-pharmacy freshmen a glimpse into a PharmD education. Students learn basic pharmaceutical calculations and practice skills such as sterile compounding, aseptic technique and prescription interpretation and filling. They also hear from guest speakers who discuss the various pharmacy career specialties.
Curriculum Vitae Workshop
The workshop focuses on helping students create a curriculum vitae tailored to their career aspirations.
Pharmacy Residency Panel
Recent Pacific PharmD graduates who are currently completing residencies are invited to campus to share their experiences and advice on how to pursue postgraduate training opportunities.
Pre-Pharmacy Society
The student-run Pre-Pharmacy Society hosts pharmacy guest speaker events, advancement panels with former pre-pharmacy students, PharmD program mock interviews, mentor-mentee mixers and other networking opportunities.
The Office of Pre-Pharmacy also hosts social events throughout the year to build relationships between students, faculty and staff.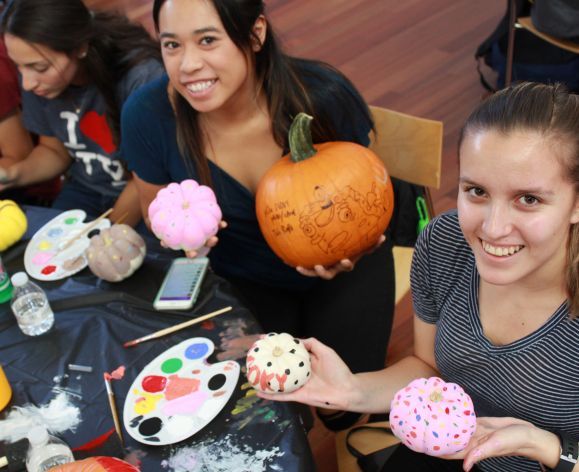 Pre-Pharmacy Advantage Program
Contact Us
"Having a faculty advisor who currently teaches at the Thomas J. Long School of Pharmacy is a great asset in working through my undergrad years and making sure I'm prepared for that next step in my education. I've received a lot of helpful advice, all of which has helped me in learning how to more effectively plan ahead, whether it be figuring out my classes for the next semester or the steps I should be taking now to prepare for my future career."
- Olivia Laprade, pre-pharmacy student
All applicants are encouraged, and admitted students are required, to carefully read and agree to the PharmD Technical Standards. It is also highly recommended that all applicants review the California State Board of Pharmacy licensure requirements.
Undergraduate transfer students: There is no formal "pre-pharmacy advantage" available to a student who transfers to Pacific. We have excellent undergraduate programs to which transfers are welcome to apply, but once here, these students will compete with those applying from other institutions for space in the PharmD program.