University of the Pacific partners with the Abbott Fund
Diabetes Care Clinics
University of the Pacific, in partnership with the Abbott Fund, created the Diabetes Care Clinics to address the diabetes epidemic in underserved communities in Stockton. The goal of the Diabetes Care Clinics is to identify individuals who have, or are at risk of developing, prediabetes and/or diabetes. Our mission is to serve these individuals by conducting community-based clinics and providing health screenings/services and education.
This is part of Abbott's Future Well™ Communities program, which is working to address health disparities in Stockton, California by removing the barriers that prevent people with diabetes from living healthy. Bringing together local organizations, the global healthcare company Abbott and its foundation the Abbott Fund, Future Well Communities is advancing health equity by providing targeted care and social services to those who need it most.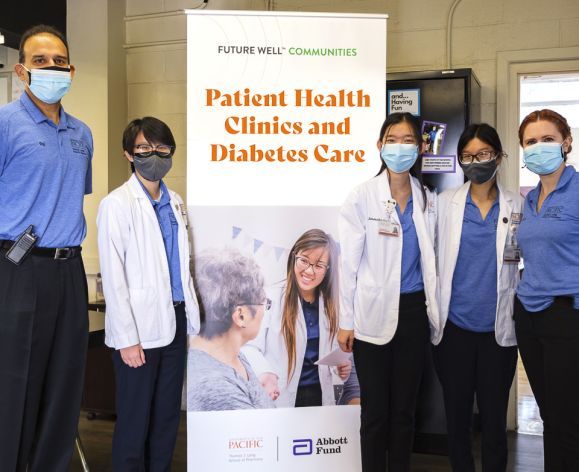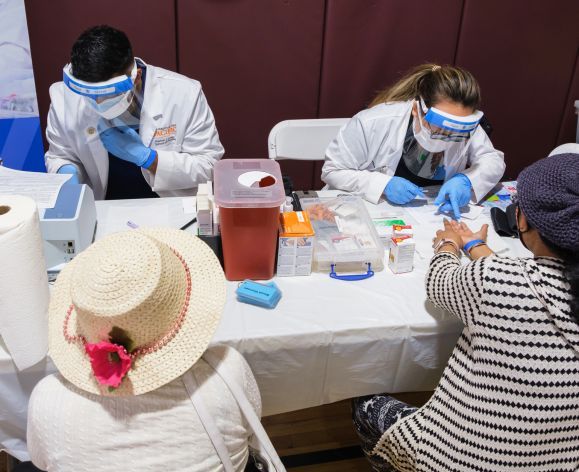 Diabetes Care Clinics
Screenings and Services
Prediabetes Risk Assessment
Blood glucose and A1C testing
Blood pressure measurement
Cholesterol testing
Immunization administration (influenza, pneumonia, Hepatitis B, Tdap, shingles)*
Comprehensive medication review (including creation of a Personalized Medication Calendar)
Drug cost assistance (e.g. Pharmaceutical Assistance Programs, Drug Discount Coupons and Medicare Part D plan review)
Narcan nasal spray distribution (for those who qualify)
*COVID-19 vaccines and tests may also be available
Make an appointment
Call 209.932.4200
Appointments are highly recommended for all in-person events for comprehensive medication review services.
All other screenings/services will not require an appointment.
What to bring
Surgical, KN95 or N95 masks must be worn prior to entry of any Diabetes Care Clinic. Masks will be provided.
All prescription and over-the-counter medications, including vitamins and supplements.
For Medicare Part D reviews please bring your red, white and blue Medicare card and MyMedicare.gov login information (if you have this).
Saturday, October 15
10 a.m. - 6 p.m.
University of the Pacific, Thomas J. Long School of Pharmacy
757 Brookside Rd
Stockton, CA 95211
Sunday, October 16
10 a.m. - 6 p.m.
University of the Pacific, Thomas J. Long School of Pharmacy
757 Brookside Rd
Stockton, CA 95211
Diabetes Prevention Program
The Diabetes Care Clinics is in the process of developing a Diabetes Prevention Program to help individuals with prediabetes prevent or delay the onset of type 2 diabetes.
More information coming soon.
Resources for individuals with diabetes
Call 211 or call Dignity Health's diabetes health navigator line at 209.944.8355.
Type 1 diabetes is a long-term autoimmune disease where a person's pancreas no longer makes insulin. Typically, insulin helps the body process sugar from the food you eat. Without insulin, your blood sugar levels can increase. Type 1 diabetes is usually diagnosed in children or young adults, but can occur at any age. People with Type 1 diabetes must use insulin to help control their blood sugar.
Type 2 diabetes is a long-term condition where a person's pancreas may not produce enough insulin and the body is not able to properly respond to insulin. This results in high blood sugar levels. Type 2 diabetes is more common in adults. Diet, exercise, and diabetes medications can all help manage blood sugar levels in Type 2 diabetes.
Gestational diabetes can develop during pregnancy in individuals who have not already been diagnosed with diabetes. This can happen when the mother's body is unable to make or use insulin, causing blood sugar levels to rise. Gestational diabetes can be managed with diet, exercise, and medications.
Prediabetes occurs when blood sugar levels are higher than normal, but not high enough to be diagnosed as Type 2 diabetes. Individuals who have prediabetes are at increased risk of developing Type 2 diabetes.
People may be at higher risk of developing Type 2 diabetes if they:
Are overweight or obese
Are 45 years or older
Have a parent, brother, or sister with Type 2 diabetes
Had gestational diabetes (diabetes during pregnancy) or gave birth to a baby who weighed more than 9 pounds
Are African American, Hispanic or Latino, American Indian, Alaska Native, Pacific Islander, or Asian American
Are physically active less than three times per week
Contact Us
Contact & Location Information
Email: diabetesclinics@pacific.edu
Phone: 209.932.4200
Address: 751 Brookside Road, Stockton, CA 95211
Clinic Personnel
Rajul A. Patel, PharmD, PhD, Program Director
Nareeta Sharma, PharmD, MS, Program Manager
Suzanne Uchizono, Program Support