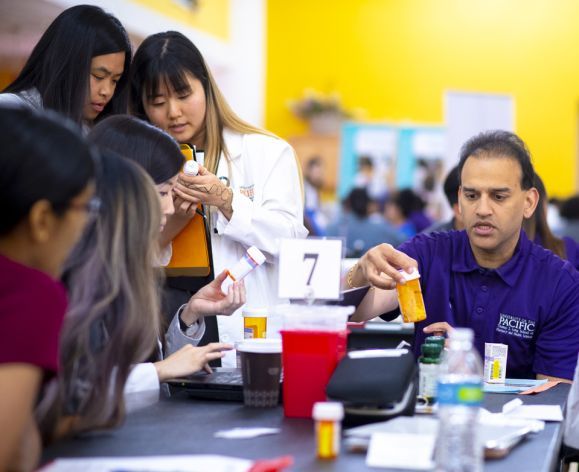 Community Impact
Approximately 75 percent of beneficiaries reduced their drug costs.
Beneficiaries saved an average of $1,014 per year on their drug costs.
Since 2007, Pacific's Medicare Part D Outreach Clinics have assisted 11,108 beneficiaries with their Medicare Part D drug plan, helping beneficiaries save an estimated total of $11.27 million.
175
175 events in 22 cities and 17 virtual events
40K
39,966 hours volunteered by student pharmacists
32.6K
Since 2007, approximately 32,600 free health care screening/services were provided to beneficiaries
8.4K
8,352 beneficiaries received medication therapy management
5.9K
5,925 vaccinations were administered
(Flu, pneumococcal, tdap Hepatitis B or shingles)
2.2K
2,245 low-income beneficiaries served
17,239 medication-related issues were identified
Over 850 severe drug-related problems were found and in response the patient's physician was contacted
1,303 beneficiaries were assisted in a language other than English
1,184 Anemia
499 Anxiety
771 Asthma
9,636 Blood Pressure
4,280 Bone Density
5,442 Cholesterol
828 Depression
5,697 Diabetes
3,361 Falls Risk Assessment
1,743 Memory Decline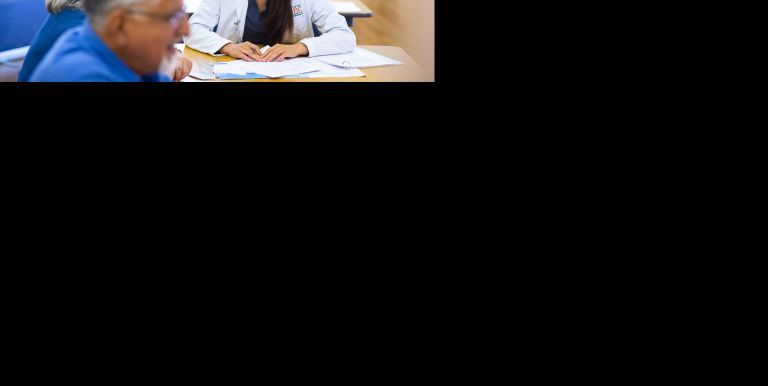 Patient Testimonials
"Seniors often feel lonely and lost and there aren't many services for us. When there is someone who can counsel us, they seem to have a limited amount of time and energy and perspective. Whereas here, you get a lot of individual attention from young people who have a lot of energy and know-how and they have a mentor who can help them with anything that they don't know. This is actually meeting a need on both sides. It is making the pharmacist more capable of seeing the full humanity of the people they are serving and allowing the people they are serving to feel their humanity and to feel seen."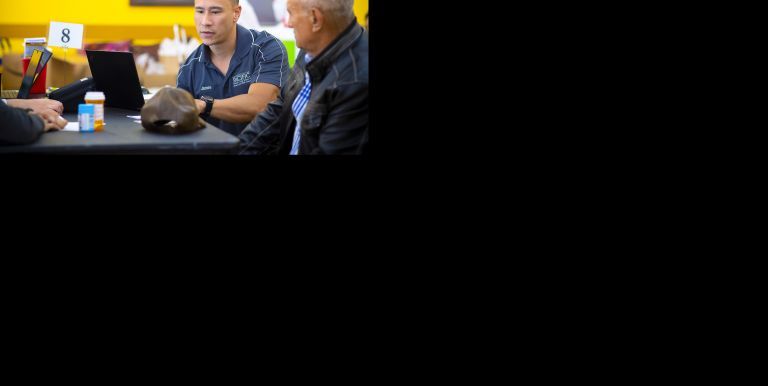 Patient Testimonials
"Excellent service UOP pharmacy students provide! Quite impressive. They did a thorough analysis of my mom's health conditions and medications. We also had a PA student at our table, and together they provided some helpful suggestions. Also received excellent and helpful advice by the bone mineral density screening students. Thank you!"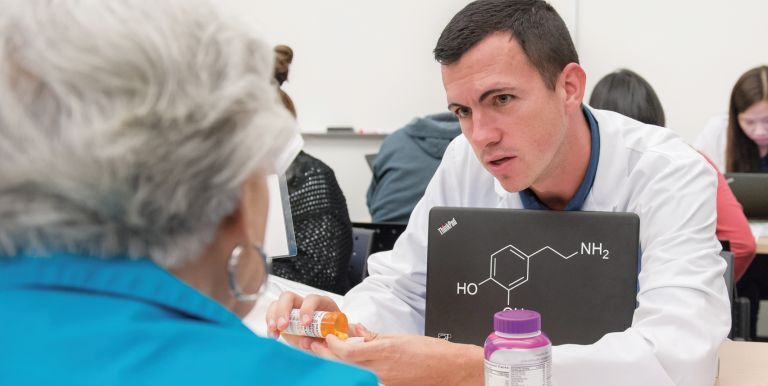 Patient Testimonials
"All of the students that helped us were wonderful, very thoughtful and patient. The young lady that helped with us Medicare drug benefit was great. She took a lot of time educating and explaining things, and we got a new drug plan that will save us a bunch of money. Thank you for having this event, we enjoyed ourselves very much."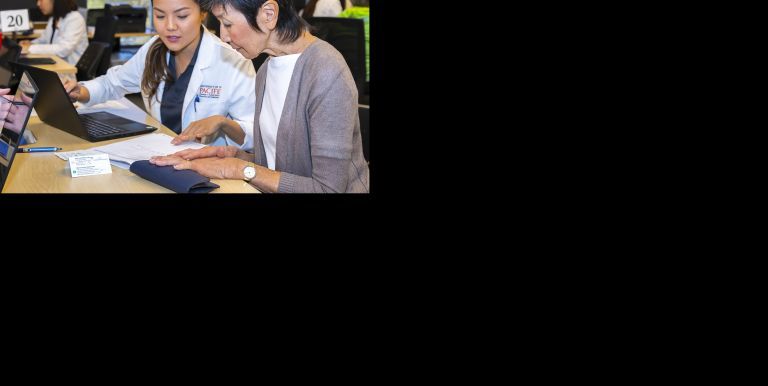 Patient Testimonials
"I realized as I was gathering papers together to come to this, that it is such a blessing to have something like this where someone can help us figure out how to get through the maze. Because there is an aspect of Medicare that has a maze feeling to it and there is some anxiety that one might get lost in it. So, to have people who have experience knowing how to trace it through and the fact there is often more than one person there helping ... I was so relieved."
Support the Medicare Part D Outreach Clinics
Partner with Us
Support our students and communities by making a gift to the Powell-matched Pacific Medicare Part D Outreach Program Endowment Fund. This endowment was established to support and expand the Medicare program, student-centered class activities and Medicare outreach events. The endowment will help offset student travel costs to conferences to present their Medicare-related research and provide funding to support new health-related initiatives that are incorporated into the Medicare outreach events.
"This endowment will help ensure the long-term viability of our Medicare program and continued service to the community," said Rajul A. Patel '01, '06, PharmD, PhD, professor of pharmacy practice.

Every dollar you give is matched by the Powell Match, doubling the impact of your gift! When Pacific received a transformational gift of $125 million from the estate of Robert and Jeannette Powell, a portion of their gift was designated for matching, dollar for dollar, new endowed gifts of $50,000 or more that provide scholarship or those that enhance the academic experience of our students.

For more information, contact Susan Webster at swebster@pacific.edu or 209.946.3116.
The reach of the program has been made possible by the support of many, including community partners, governmental agencies and pharmacist preceptors. Our Medicare Part D outreach program only partners with governmental agencies at our events to keep an objective, unbiased environment and to ensure the trust of those we serve.