Preceptors are exemplary practitioners who dedicate time to develop the next generation of pharmacists. They are committed to their profession and to their role as educators. Preceptors provide students with an environment that is conducive to learning and opportunities for students to develop professional and interprofessional competencies. They serve as role models for students to gain hands-on experience in the practice environment. Preceptors attempt to instill the principles of professional ethics by deeds as well as words.
Become a Preceptor
Are you interested in sharing your time and talent as Pacific preceptor? Kevin Komoto '08, '09, PharmD, MBA, said, "Just do it! It's a truly rewarding experience and challenges you to stay on top of your game."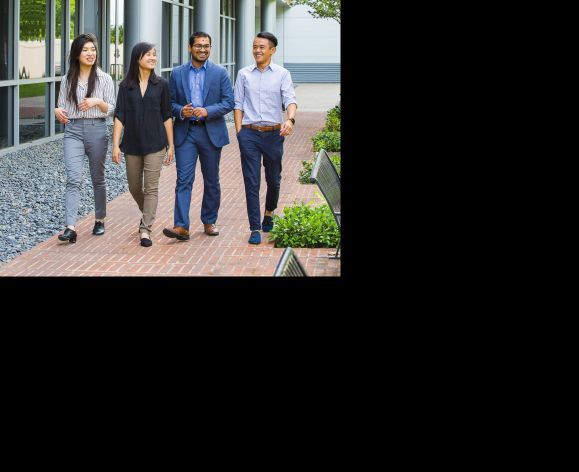 CORE Higher Education Group
University of the Pacific utilizes CORE Higher Education Group as the experiential learning management system to administer and track schedules, experiential requirements, coordinate activities, and collect assessment information from preceptors and students.
Library
Preceptor with adjunct faculty status are granted access to the University e-library resources which include full text e-journal, Cochrane Library, Stat!Ref and selected databases, such as UpToDate and Clinical Pharmacology.
Advanced Pharmacy Practice Experience Calendar
2023-24 Academic Year | Class of 2024

Fall 1

Fall 2

Fall 3
Break
Spring1
Spring 2
Spring 3
Aug. 14 -
Sept. 22, 2023
Sept. 25 -
Nov. 3, 2023
Nov. 6 -
Dec. 15, 2023
Dec. 15, 2023 - Jan. 7, 2024
(Three weeks)
Jan. 8 -
Feb. 16, 2024
Feb. 19 -
Mar. 29, 2024
April 1 -
May 10, 2024
Awards and Recognitions
Every year we recognize outstanding preceptors who represent the three IPPE practice settings as well as the APPE regions located across California.
Regional Coordinators of the Year
2023 | Yong S.K. Moon, PharmD, LA/Long Beach
2022 | Elaine Law, PharmD, BCPS, FCSHP, San Jose
2021 | Amber Miller, PharmD, BCPS, BCCP, LA/San Fernando Valley
2020 | Nancy N. Nguyen, PharmD, BCPS, AAHIVP, FCSHP, Palo Alto
2019 | Audrey J. Lee, PharmD, BCPS, FCSHP, San Francisco
2018 | Sachin A. Shah, PharmD, Travis Air Force Base
2017 | Marie Scott, PharmD, San Diego
2016 | Nancy N. Nguyen, PharmD, BCPS, AAHIVP, FCSHP, Palo Alto
2015 | Audrey J. Lee, PharmD, BCPS, FCSHP, San Francisco
2014 | Mark P. Walberg, PharmD, PhD, CTH, LA/San Fernando Valley
2023 Preceptors of the Year

Introductory Pharmacy Practice Experience
Catherine Lo '98, PharmD
Community

Tobi Knepler-Foss '17, PharmD
Health Care Outreach
Kelsea Kerr '03, PharmD
Hospital
Advanced Pharmacy Practice Experience

Jay Joson '03, PharmD, APh, BCPS, BCMTMS
Bakersfield

Jeffrey McCamish, PharmD
Fresno

Tim Dang, PharmD
Inland Empire

J.J. "Jonathan" Way, PharmD
LA/Long Beach

Tammy Tang, PharmD, BCCCP
LA/San Fernando Valley

Laura Kawamoto '10, PharmD
Modesto/East Bay

Amir A. Haddad, PharmD, MBA, BCPS
Monterey

Michael Xu '18, PharmD, MBA, BCPS
Palo Alto

Duong Nishiguchi '12, PharmD, BCPS, BCCCP
Redding

Edie Hosier '15, PharmD, BCPS, BCSCP
Sacramento

Kayla Giang, PharmD, MS, BCPS, BCCP, BCCCP
San Diego

Emily Garduno, PharmD, BCPS
San Francisco

Kristine Zhang, PharmD
San Jose

Ryan Russell, BSPharm
Santa Barbara

Andrea Hinton, PharmD, FCSHP
Stockton

Sharon Fung '20, PharmD
Travis

Distinguished Service Award
 

Jennifer Branch, PharmD
Sacramento

 
Introductory Pharmacy Practice Experience
Hamza Ziadeh, PharmD
Community

Petrus Nguyen-Tu '20, PharmD
Health Care Outreach
Gianna Firpo, PharmD
Hospital
Advanced Pharmacy Practice Experience

Jenny Vu '16, PharmD
Bakersfield

Matthew Ford, PharmD
Fresno

Susie H. Park, PharmD, APh, BCPP, FCSHP
Inland Empire

Ryan Ristau, PharmD
LA/Long Beach

Edward "Eddie" Lee '10, PharmD
LA/San Fernando Valley

Mark Awad '12, PharmD, BCCCP
Modesto/East Bay

Caroline Ha '15, PharmD
Palo Alto

Hans Teuscher, PharmD
Redding

Chi-Leung Lai, PharmD
Sacramento

Charisma Urbiztondo, PharmD
San Diego

Cindy Hanh Chen, PharmD
San Francisco

Petrus Nguyen-Tu '20, PharmD
San Jose

Sarah Halcomb '14, PharmD, BCPS
Santa Barbara

Hee Jae "Janet" Chung '16, PharmD, BCPS
Stockton

Fernando Estrada, PharmD, BCPS, BCIDP
Travis Air Force Base

Distinguished Service Award

Ivan Ho, PharmD
San Francisco

Kaitlyn Moorehead, PharmD
Santa Barbara
Introductory Pharmacy Practice Experience
Charles Chinn '82, PharmD
Community

Irwin D. Chow, Jr. '70, PharmD
Health Care Outreach
Tammie Nguyen '99, '02, PharmD
Hospital
Advanced Pharmacy Practice Experience

Christian Cho, PharmD, BCIDP
Bakersfield

Jennifer Siilata '06, PharmD
Fresno

Oscar Gallegos, PharmD, BCACP
Inland Empire

Christie Caillier, PharmD, BCIDP
LA/Long Beach

Julie Snyder, PharmD, BCPS, BCCCP
LA/San Fernando Valley

Huan Phan, PharmD
Modesto/East Bay

Folashade Alabi, RPh, BCCCP
Monterey

Benny Yau, PharmD, BCCCP
Palo Alto

Holly Sybert, PharmD, BCPS
Redding

Katie Choi '17, PharmD
Sacramento

Tamara Ogg, RPh
San Diego

Ling Kao, PharmD
San Francisco

Linda Kamakuru, PharmD, BCPS
San Jose

Tiffany Riley '16, PharmD
Santa Barbara

Jered Arquiette '08, PharmD, BCPS-AQ ID
Stockton

Quan Tran, PharmD
Travis Air Force Base

Distinguished Service Award

Jin-Hee Nomura, PharmD, BCGP, APP
LA/Long Beach

Tammie Nguyen '99, '02, PharmD
Sacramento

Christine Chan, PharmD
San Francisco
Introductory Pharmacy Practice Experience
Karin Toy, PharmD
Community

Duy Anh T. Dang '17, PharmD
Health Care Outreach
Anna Wong '78, PharmD
Hospital
Advanced Pharmacy Practice Experience
Oscar Gutierrez '05, PharmD
Bakersfield

Herbert Cruz, MD
Fresno

Jimmy Hernandez, PharmD
Inland Empire

Macy Ho, PharmD
LA/Long Beach

Stanley Nomura, PharmD
LA/San Fernando Valley

Abigail Kurtz '13, PharmD
Modesto/East Bay/Sonora

Chris Ulrey, PharmD
Monterey

Toan Thai, PharmD
Palo Alto
Wailan Gong, PharmD
Sacramento

Ariel Ma, PharmD, BCPS AQ-ID
San Diego

Caterina McConnell, PharmD
San Francisco

Maritza Lew, PharmD, CPHIMS, PMP
San Jose

Josephine Sasu-Tenkoramaa, PharmD, BCOP
Santa Barbara

Jason Ellison, PharmD, BCPS
Stockton

Ali Yasseri, PharmD
Travis Air Force Base
Distinguished Service Award

Jitendra Lal '06, PharmD
Modesto/East Bay/Sonora

Lawrence Troxell, PharmD
Palo Alto

Donna Dare, PharmD
San Francisco

Kathy Pivato, RPh
Santa Barbara
Introductory Pharmacy Practice Experience
Duncan Wong, PharmD
Community

Sam J. Abid III '16, PharmD, BAAS
Health Care Outreach
Nam V. Nguyen, PharmD
Hospital
Advanced Pharmacy Practice Experience
Jasjinder Cheema, PharmD, BCPS, BCPPS
Bakersfield

Michael B. Dimont '12, PharmD
Fresno

Vinh Thi Ngoc Bui, PharmD, BCPS
Inland Empire

Michael Nitake, PharmD, MBA
LA/Long Beach

Erin Bess, PharmD
LA/San Fernando Valley

Shelley Tang-Drewniak, PharmD, BCPS
Modesto/East Bay

Dharma R. Naidu '13, PharmD, BCOP
Monterey

Trisha S. Nakasone, PharmD, BCPS-AQ ID
Palo Alto
Candace Chan '13, PharmD
Sacramento

Tim Chen, PharmD, BCACP, BCGP, APh
San Diego

Beth Keeney, PharmD
San Francisco

Caroline L. Ko, PharmD, BCPS, BCCCP
San Jose

Sul Florence Jung, PharmD, BCPS, BCCCP
Santa Barbara

Hanh Pham, PharmD
Stockton

Kenny Liang, PharmD
Travis Air Force Base
Distinguished Service Award
Jeremiah "Jay" Joson '03, PharmD, APh, BCGP, BCPS, BC-ADM
Bakersfield
Introductory Pharmacy Practice Experience
Nam D. Nguyen '08, PharmD
Community

Utsav J. Patel '16, PharmD
Health Care Outreach
Kristina Lai San Pedro '05, PharmD
Hospital
Advanced Pharmacy Practice Experience
Huei-Li "Lily" Barker, PharmD, BCPS
Bakersfield

Tammie J. Armeni, RPh, PharmD
Fresno

Man Nguyen, PharmD
Inland Empire

Stephanie F. Wu, PharmD
LA/Long Beach

Amber Miller, PharmD, BCPS
LA/San Fernando Valley

Ashley Ann K. Fuchigami, PharmD, BCPS
Modesto

Denise Kwong, PharmD, BCPS
Palo Alto
Joe H. Hoang, PharmD
Sacramento

Richard Saylor, RPh
San Diego

Shital Kelshikar, PharmD
San Francisco

Khanh Pham, PharmD
San Jose

Kaitlyn Moorehead, PharmD
Santa Barbara

Richard L. Pigao '11, PharmD
Stockton

Michelle Singson '16, PharmD
Travis