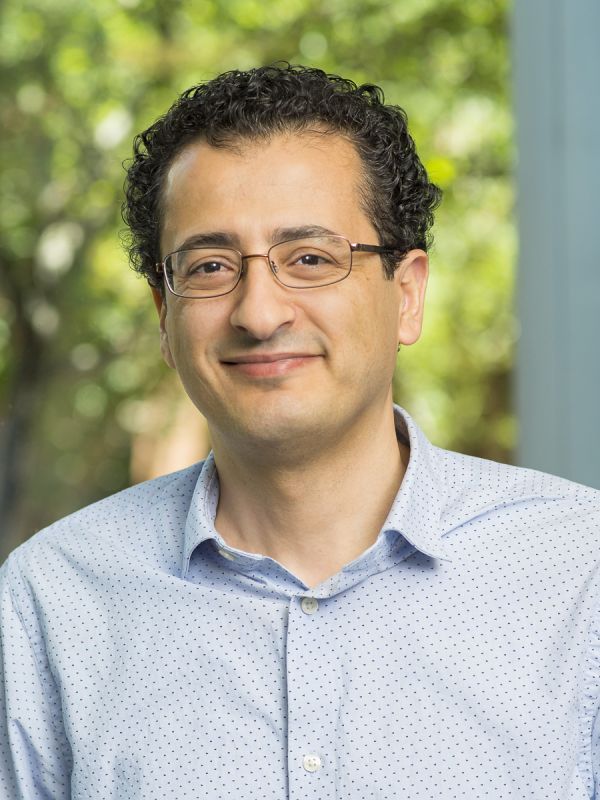 At Pacific Since: 2011
Mamoun M. Alhamadsheh, PhD is an associate professor of pharmaceutical chemistry at University of the Pacific. He earned his bachelor of pharmacy from Jordan University of Science and Technology in Irbid, Jordan. Dr. Alhamadsheh earned his doctor of philosophy in medicinal chemistry from the University of Toledo. He performed his post-doctoral research in the area of chemical biology at Portland State University and Stanford University.
Dr. Alhamadsheh joined the Pacific family in 2011. He loves interacting with students at Pacific and sharing his enthusiasm for his research activities.
Dr. Alhamadsheh is the scientific co-founder of Eidos Therapeutics. His NIH-funded research group employs an interdisciplinary approach to study protein misfolding diseases, combining synthetic organic chemistry with biochemistry and molecular biology. He is an expert in structure-based design of novel therapeutic agents for diseases associated with transthyretin amyloidosis. Dr. Alhamadsheh's group developed the transthyretin stabilizer, AG10, the lead molecule for Eidos Therapeutics, and he continues to advise the scientific direction of the company.
Another active area of research in Dr. Alhamadsheh's group is developing novel technologies for enhancing the in vivo half-life of therapeutic peptides for drug targeting and delivery. Dr. Alhamadsheh is the recipient of a New Investigator Award from the American Association of Colleges of Pharmacy. He is a coauthor on multiple publications, and an inventor on several issued and pending patents.
Education
BS in Pharmacy, Jordan University of Science and Technology, 1999
PhD in Medicinal Chemistry, University of Toledo, 2004
PostDoc, Portland State University, 2004-2007
PostDoc, Stanford University, 2008-2011
Teaching Interests
Teaching Philosophy
"My ultimate goal as a professor is to provide students with the foundational knowledge to solve real-life problems. In the classroom, I always encourage students to ask questions and engage in discussions in order to become critical thinkers. I try my best to inspire students and show them that what they learn in class would allow them to make a difference in providing the best therapy for patients. Most importantly, I make sure that clinical relevance is introduced to the material taught in class. This has made the course not only intellectually stimulating but also interesting to the students."
Courses:
PHRM 135 — Pharmacology & Medicinal Chemistry I
PHRM 113 — Molecular & Cellular Biochemistry
PMED143 — TA for Molecular & Cellular Biochemistry
PCSP 208 — Pharmaceutical Analysis
PMED 193A — PharmD Independent Study
PCSP 397 — Graduate Research
PCSP 299 — Graduate Thesis
Research Focus
Research Summary
"Our lab employs an interdisciplinary chemical biology approach to study protein-protein interactions (PPIs). We are interested in developing small molecules that can be used to probe or inhibit PPIs. These small molecules would be used to understand the structure and function of multi-protein complexes as well as to develop new leads for drug discovery. Due to the urgent need for new drugs, we are particularly interested in developing chemical tools and therapeutic agents for protein aggregation (a type of PPIs) diseases such as Alzheimer's disease and Transthyretin Amyloidosis.
Our group is also interested in developing novel approaches for drug targeting and delivery. These approaches are aimed at decreasing cost and increasing clinical success rate of therapeutic agents."
Research Interests
Protein-Protein Interactions
Amyloid Beta Aggregation in Alzheimer's Disease
Transthyretin Amyloidosis
Scholarly Activity
Mamoun Alhamadsheh, BPharm, PhD, had his paper "A biomimetic approach for enhancing the in vivo half-life of peptides" published in the Nature Chemical Biology Journal. Co-authors are Sravan C. Penchala '16, Mark R. Miller '17, Arindom Pal '19, Jin Dong '16, Nikhil R. Madadi '15, Jinghang Xie '14, Hyun Joo (Chemistry), Jerry Tsai (Chemistry), Patrick Batoon '16 (Chemistry), Vyacheslav Samoshin (Chemistry), Andreas Franz (Chemistry), Trever Cox '14, Jesse Miles '15, William K. Chan, PharmD, PhD, Professor of Pharmaceutics and Medicinal Chemistry and Miki S. Park, PhD, Associate Professor of Pharmaceutics and Medicinal Chemistry. Learn more.
Penchala SC, Connelly S, Wang Y, Park MS, Zhao L, Baranczak A, Rappley I, Vogel H, Liedtke M, Witteles RM, Powers ET, Reixach N, Chan WK, Wilson IA, Kelly JW, Graef IA, Alhamadsheh MM. AG10 inhibits amyloidogenesis and cellular toxicity of the familial amyloid cardiomyopathy-associated V122I transthyretin. Proc. Natl. Acad. Sci. USA. 2013;110:9992-9997.
Mamoun Alhamadsheh had his article "Potent Kinetic Stabilizers That Prevent Transthyretin-Mediated Cardiomyocyte Proteotoxicity" published and featured on the cover of Science Translational Medicine magazine. It was also mentioned in Chemical & Engineering News, published by the American Chemical Society, and The Alzheimer Research Forum.