Doctor of Pharmacy
Become a pharmacist and help patients live healthier lives
Since 1955, the Thomas J. Long School of Pharmacy has been training pharmacists who are problem-solvers, innovators and leaders. By choosing University of the Pacific's doctor of pharmacy (PharmD) program, you will become part of our legacy of excellence and leadership. The skill set and clinical experience you gain from our program will open doors to the many settings where pharmacists play a key role, from hospitals to pharmaceutical research and development.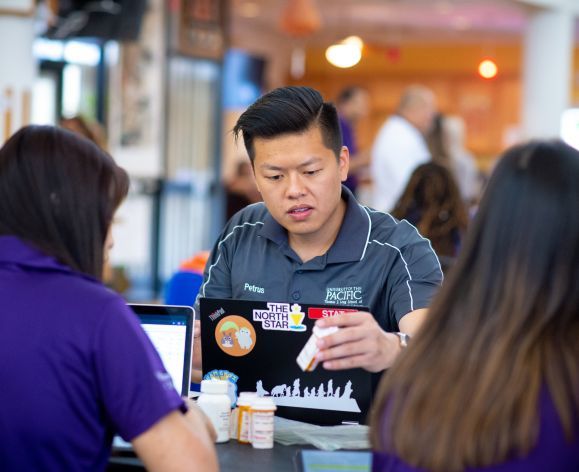 Experiential Learning
Learn by doing. Our innovative PharmD program will prepare you for the range of settings pharmacists play a key role, including community, health systems, population health and public health. By working alongside seasoned professionals, you will get the hands-on experience you need to hone your clinical and patient-care skills.
For your clinical experience, choose from 17 different regions across California, from Eureka to San Diego and all in between. Our dedicated faculty will help guide you every step of the way in your clinical rotations.
During your time here, you will be immersed in a wide range of practice settings. As you explore the various practice settings, you will find one that's right for you; whether that is a fast-paced hospital environment, a research-based setting, a setting that utilizes your business acumen or a cutting-edge specialty.
Our graduates have gone on to own independent pharmacies, hold leadership positions at the national level and secure academic positions at universities across the country.
Dynamic teams are the future of health care. Our interprofessional education curriculum connects students across Pacific's three campuses and from universities across the country. Our PharmD students collaborate with students from the physician assistant studies, speech-language pathology, physical therapy, dental surgery and athletic training programs at Pacific.
Start impacting patients' lives now. Through student-led outreach programs, you will interact directly with patients and provide vital health care services to members of our community.
Since 2007, Pacific's Medicare Part D Outreach Clinics have assisted 8,686 patients with their Medicare Part D drug plan, helping patients save an estimated total of $8.77 million.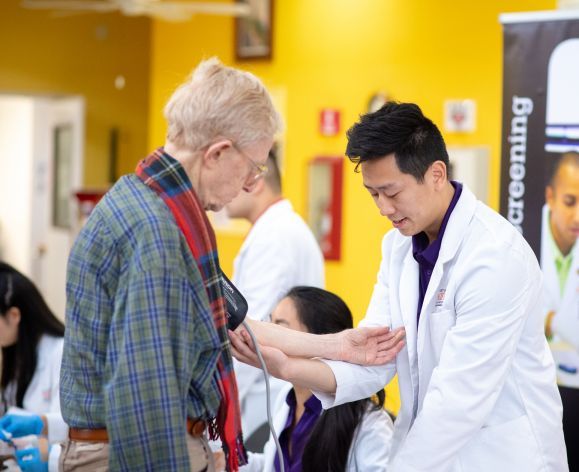 Success-Centered
Pacific PharmD graduates have consistently had a higher first-time pass rate for the NAPLEX exam than the national average.
Many of our graduates go on to complete residencies or fellowships. Our faculty and alumni are valuable assets for students who are interested in pursuing these postgraduate opportunities.
An environment where you can thrive. Our faculty and staff are committed to your growth — academically, personally and professionally. We take the time to learn about you as an individual. At Pacific you can find a community and home away from home.
Leadership-Focused
Collaborate with your peers. At Pacific, there are leadership opportunities in four realms: student chapters of professional organizations, health care outreach committees targeted at specific public health issues, professional pharmacy fraternities and honor societies. Through these opportunities, you will gain the communication and leadership skills you will use every day as you serve your patients.
Our student groups are frequently recognized at the state and national level. We also have a reputation for excelling at clinical and business plan competitions.
6
Student chapters of professional organizations
4
Professional pharmacy fraternities
Powerful Alumni Network
Our alumni are the core of the Pacific family. They are committed to helping you reach your academic and professional goals, now and throughout your career. Attend events hosted by the Pacific Pharmacy Alumni Association (PPAA) to connect with leaders in the profession. Many of our alumni are actively involved and hold leadership positions in local, state and national professional organizations.
A New Era in Pharmacy Education
To continue Pacific's legacy of innovation, we have launched an updated curriculum. The redesigned curriculum will engage and better prepare the next generation of pharmacists. We have intentionally integrated active learning techniques in our courses to help you gain the knowledge and skills needed to become a well-rounded, highly competent health care provider. Our curriculum also offers extensive development of clinical case management and interprofessional collaboration.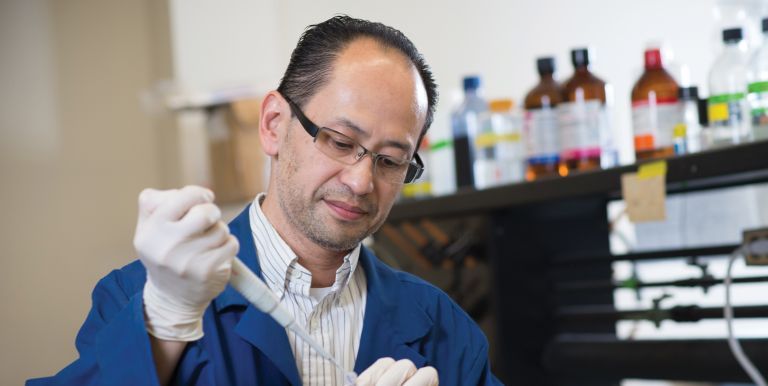 Research Driven
Our faculty members use research to challenge the status quo of patient care and education. Their research covers a wide spectrum of topics, including drug delivery, drug design, mental health and patient care. At Pacific, you will have the opportunity to work alongside our faculty members on cutting-edge research.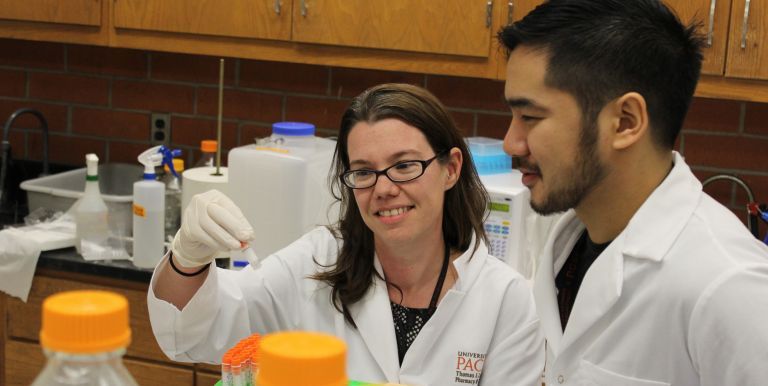 Pacific ranked in the top 10 percent nationally in postgraduate residencies for the American Society of Health-System Pharmacists Resident Matching Program.