Thomas J. Long School of Pharmacy Fellowships
Partnership with BeiGene
The Thomas J. Long School of Pharmacy is proud to partner with BeiGene to offer a Fellowship in Industry Program (FIP). Founded in 2017, the program aims to provide exceptional biopharmaceutical industry training for doctor of pharmacy (PharmD) graduates. The goal of the program is to prepare fellows for a career in the pharmaceutical industry by focusing on developing technical, leadership and communication skills. The fellowship will also concentrate on cultivating the fellow's clinical skills while honing their expertise in their area of interest.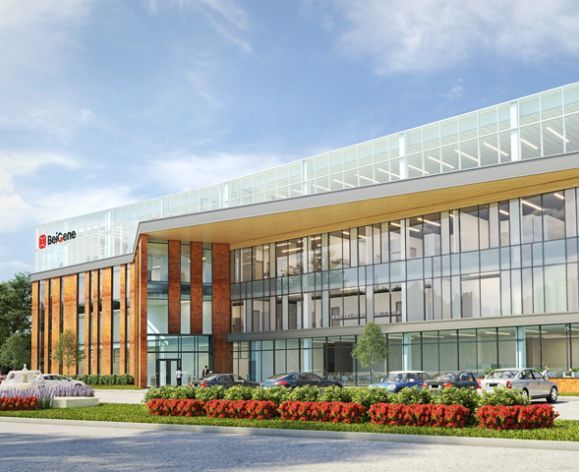 About BeiGene
BeiGene is a global biotechnology company that is discovering and developing innovative oncology treatments that are more affordable and accessible to cancer patients worldwide. From the beginning, BeiGene's Research & Development team has focused on advancing a pipeline that includes potentially first-in-class and best-in-class molecules. They are working toward this goal with one of the largest oncology research teams in the world, and a global clinical development organization that oversees dozens of clinical trials. The strength and quality of this work is validated by their clinical trial results, regulatory approvals, and collaborations.
BeiGene takes an innovative approach that leverages biology and scale.  Our approach to cancer biology unites cutting-edge research models and processes for drug discovery with the scale of a global organization. We are particularly interested in immuno-oncology, a cornerstone of cancer treatments. There is tremendous potential for synergistic combinations of cancer immunotherapies, and for combining cancer immunotherapies with other therapies.
This two-year Hematology-Oncology Clinical Development fellowship provides extensive exposure to clinical development activities and fosters an understanding of clinical research principles. The fellow will function as a Clinical Scientist and will support Medical Directors/senior-level Clinical Scientists on a diverse set of clinical development activities.
BeiGene has built an extensive array of novel in vitro, ex vivo and in vivo cancer models to help better select targets, and to screen and evaluate agents that may have significant potential (alone or in combination). By integrating elements of the human immune system, their cancer models enable them to evaluate potential drug candidates in conditions that mimic cancer at the time of treatment. This is especially significant when drug discovery depends on evaluating multiple combinations and regimens that target specific mutations while simultaneously immobilizing cancer cells' defenses. In the role of a Clinical Scientist, the fellow will gain a strong foundation in clinical oncology research.
Activities at BeiGene:
The fellow will function as a clinical scientist and will support medical directors/senior level clinical scientists on the following activities:
Serve as a clinical science representative on cross-functional sub-teams (i.e. protocol execution, clinical, biomarkers, pharmacokinetics)
Create, review and present clinical slides for internal (i.e. BeiGene) and external meetings (e.g. Investigator meetings, scientific congresses, advisory boards, site visits, site staff training)
Develop understanding of Good Clinical Practice (GCP), International Conference on Harmonization of Technical Requirements for Registration of Pharmaceuticals for Human Use (ICH), FDA, EMA, NICE and other relevant guidelines and regulations
Draft abstracts, posters, manuscripts for scientific meetings
Author and review of clinical documents (i.e. clinical trial protocols, clarifications and amendments, informed consents, investigator brochures, clinical study reports, investigational new drug submissions)
Respond to inquiries from health authorities (e.g. FDA, EMA) and study site ethics committees
Partner with the data management team to assist with the development of case report forms
Serve as a primary point of contact for study inquiries
Contribute to ongoing review of the integrity of clinical trial data
Develop understanding of the entire clinical development process from Phase I-IV
Fellowship Program Dates
The fellowship begins July 1, 2024 and ends June 30, 2026.
Fellowship Eligibility Requirements
A candidate must be:
A permanent resident or citizen of the United States
PharmD from an accredited college or university before the start of the fellowship term
Application Process
Candidates must submit the following application materials to pharmfip@pacific.edu
Letter of intent
Curriculum vitae (CV)
Three (3) letters of recommendation emailed directly from letter writer to FIP Director - may be submitted after the application deadline
One professional writing sample
Unofficial pharmacy school transcript
Application Deadline
All applications submitted by Friday October 20th will be considered.
After October 20th: Applications reviewed on an ongoing basis.
Early submission is highly encouraged.
Submit to pharmfip@pacific.edu
Fellowship in Industry Program
Contact us
Sachin A. Shah, PharmD, FACC, FAHA
Director, Fellowship in Industry Program
Professor of Pharmacy Practice
University of the Pacific
Thomas J. Long School of Pharmacy
3601 Pacific Ave., Stockton, CA 95211
pharmfip@pacific.edu
209.946.7754