Thomas J. Long School of Pharmacy
Interactions 2023
The annual Interactions magazine highlights our students, faculty and alumni. 
Meet the faculty and students who are conducting ground-breaking research and promoting innovations in health care. Learn how the generosity of our donors supports student success and helps us provide a student-centered learning environment. Hear how our alumni are leaders in their profession.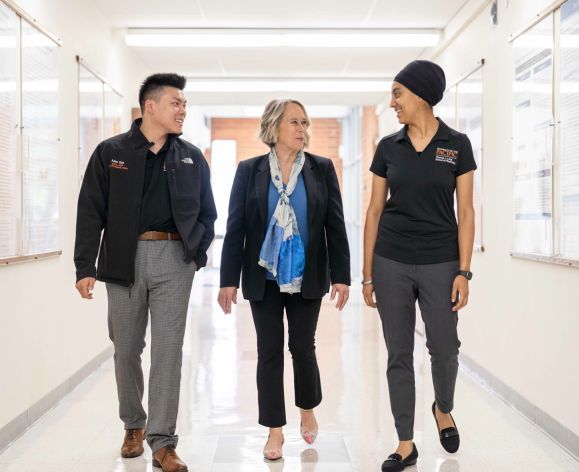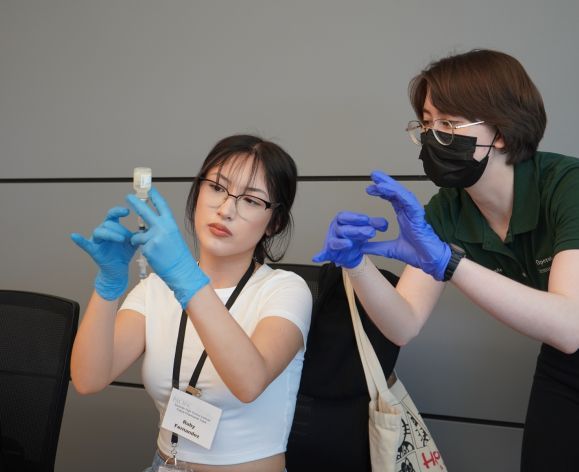 Shaping future pharmacists through the pre-college program
The Future Pharmacists program is offered through the Pacific Summer High School Institute, a two-week residential summer program designed for curious high school students to live, learn and grow on the Stockton campus.
Immersive summer programs
The School launched two innovative programs designed to empower PharmD graduates and incoming students.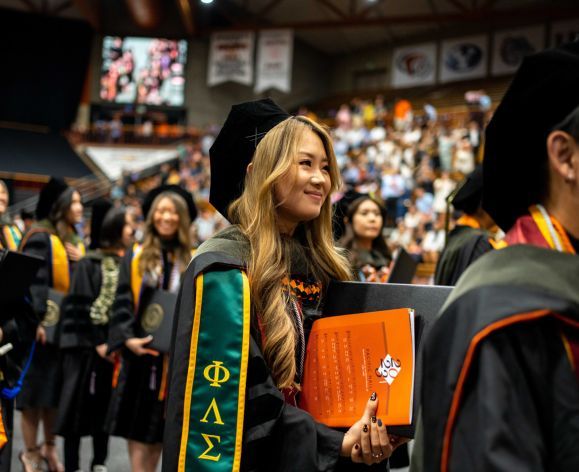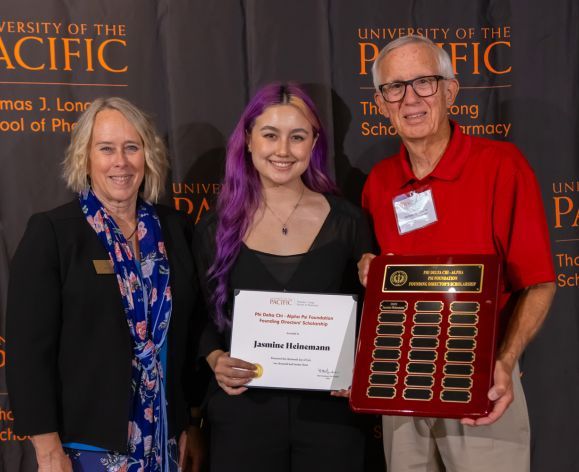 Honoring the legacy of Phi Delta Chi leadership
Two of this year's Alpha Psi Foundation Endowed Scholarship recipients, Jasmine Heinemann '25 and Megan W. Tri '26, share what led them to pursue careers in pharmacy and how they have gained confidence through the support of mentors and the fraternity's leadership development training.
Two National Institutes of Health grants
Mamoun M. Alhamadsheh, PhD received a $1.7 million R01 NIH grant to study a more potent and longer lasting antidote for opioid overdoses.
Carlos A. Villalba-Galea, PhD received an NIH grant to investigate the interaction of three proteins involved in electrical signaling in neurons and the heart.
Expert advice on choosing clean beauty products
Alumni offer guidance for selecting products that are gentler on the skin and the environment.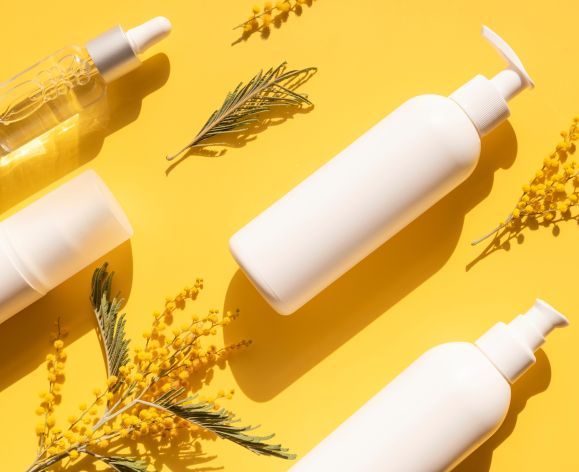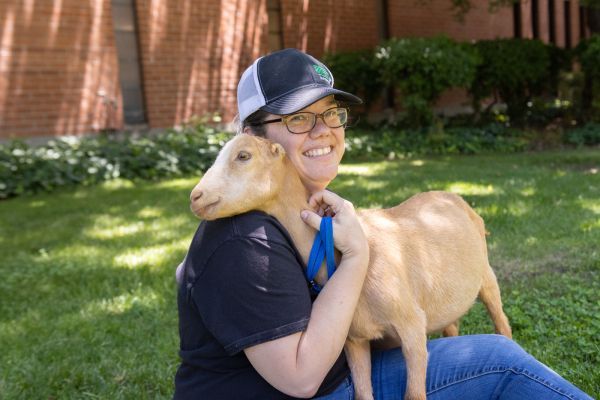 Melanie A. Felmlee, PhD
Associate Professor, Pharmaceutics and Medicinal Chemistry
Director of the Pre-Pharmacy Advantage Program
Prior to coming to Pacific in 2015, Dr. Felmlee and her family lived in New York for 10 years, where they had an acre of land she used for gardening. For the past five years, they have operated a family farm on five acres of land in Sacramento County where they raise a variety of goats, free-range chickens and turkeys, as well as a pig every other year. Her husband runs the farm, and she helps with chores like milking the goats. The Felmlee family makes treats including custard, butter, caramel, cheese and ice cream with the milk.
Her three children are learning the importance of agriculture and are developing critical skills through helping on the farm and participating in 4-H, an organization where youth complete hands-on projects. They compete at the Sacramento County Fair each year and their club, Sloughhouse 4-H, recently took home Grand Champion.
Dr. Felmlee applies her professional expertise in genetics to raise their farm animals.
"There is a lot of science behind farming," said Dr. Felmlee. "With dairy goats, we focus a lot on the improvement of the breed such as producing quality milk and selecting the right pairings for genetic traits."
Since 2017, Dr. Felmlee has offered a barbecue as an auction item for the annual Senior Board Class Auction. Students enjoy a feast on her farm — a priceless experience.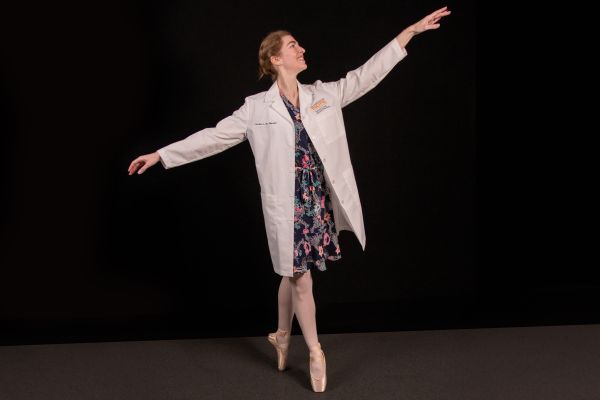 Caroline L. Ko, PharmD, BCPS, BCCCP
Associate Clinical Professor, Pharmacy Practice
When Dr. Ko is not in the classroom, she is honing her skills in the ballet studio. Dr. Ko has been doing classical ballet on and off since the age of 3. Nine years ago, after completing a PGY2 critical care pharmacy residency at Stanford Hospital, she found herself in the studio again.
"Looking back to when I gave it up, there was always something missing," said Dr. Ko. "Between ballet and band, those artistic outlets provided me personal fulfillment."
Dr. Ko enjoys ballet for the precise detail and structure required in class and during performances. She believes those characteristics are important in health care careers.
"Ballet is very exact and precise. It is a close parallel to the health sciences field where many things must be detailed," she said.
Through her studio, the Conservatory of Classical Ballet in San Leandro, Dr. Ko participates in two performances a year, "The Nutcracker Suite" and the "Student Showcase." Additionally, she teaches her own class at the studio and encourages all adult dancers to pursue their dreams.
"There is an entire online community for adult beginners, and we all cheer each other on."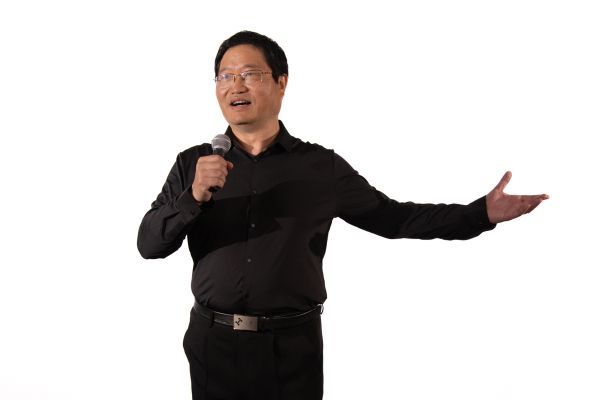 Xin Guo, PhD
Professor, Pharmaceutics and Medicinal Chemistry
For many years, graduates from the School had the pleasure of experiencing Dr. Guo's rich and powerful vocals. Leading Pacific Hail, the University's alma mater, Dr. Guo's performance was a hallmark of the School's Commencement Ceremony.
"I have always enjoyed performing at the event," he said. "Understanding how to deliver a good performance and how to interact with the audience is very interesting to me."
Dr. Guo's love for singing started in early childhood, when he would sing with his father and sister. In kindergarten, he joined the choir and in his youth he enjoyed hip-hop karaoke. It was during his graduate studies when he joined a bel canto singing club in the Bay Area.
In addition to singing, Dr. Guo has various interests in the arts. He frequently attends art exhibitions with his wife, who is a fashion designer, and enjoys playing international chess. Recently, he started taking Latin dance classes to learn the rumba and cha-cha.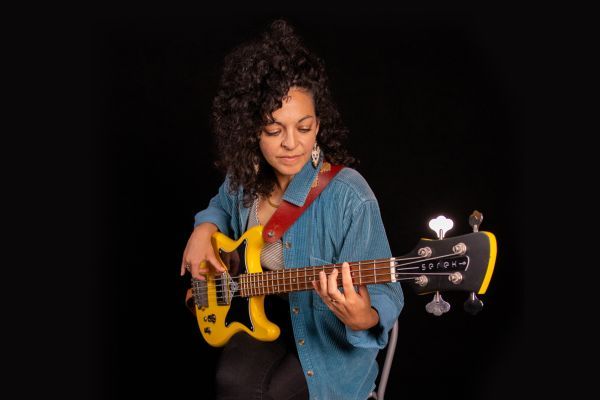 Suzanne Galal, PharmD
Professor, Pharmacy Practice
Music plays an important role in Dr. Galal's daily life. A passionate fan of live music, she was compelled to start a band eight years ago after receiving an electric bass guitar as a birthday present from her husband, a professional musician and drummer.
"Deep down, I knew that I wanted more out of music," said Dr. Galal. "I was always drawn to the rhythmic, groovy and driving force that the bass provides in a song."
Within a few weeks of receiving the gift, Dr. Galal formed Sub Sub Par, an all-female band made up of beginner musicians. Eager to learn, they performed at events such as friends' birthday parties and talent shows. In 2017, Dr. Galal traveled to Portugal, Bosnia and Croatia, where she learned the creative process of writing lyrics and crafting her musical voice.
Five years ago, she formed a new band with her husband called Suzanimal. The band, self-described as a "smart, playful psychedelic pop project from the San Francisco Bay Area," has released two albums and will be releasing two additional albums next year.
In the classroom, she uses the lessons she learns from recording and live performances to inspire her teaching.
"I've been able to incorporate music into the classroom and my research as a learning tool and stress-reducing strategy," said Dr. Galal. "I hope to continue to grow and develop as a musician and be able to pass on what I'm learning to my students through my teaching."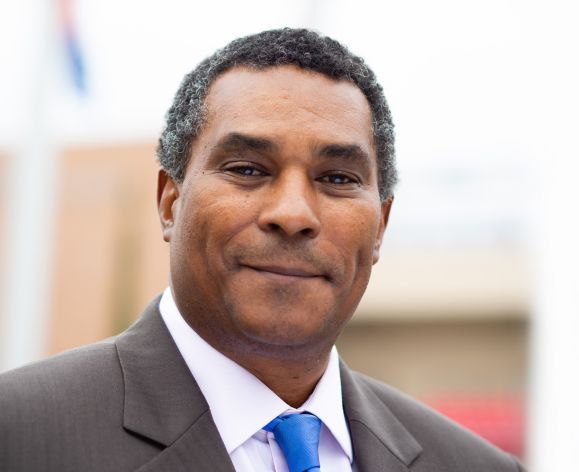 Alumnus of the Year
Lawrence "LB" Brown '99, PharmD, PhD, FAPhA joined the U.S. Air Force with the intention of becoming an air traffic controller. Based on his test scores, the recruiter encouraged him to consider a career in one of four health care fields, putting him on a path to career in pharmacy. Dr. Brown has impacted the pharmacy profession through his involvement in the American Pharmacists Association, his commitment to the Kappa Psi pharmaceutical fraternity and his roles in academia.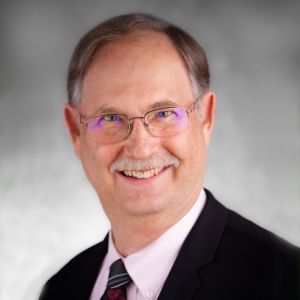 "I know there are so many deserving pharmacists who have done so much for our profession. It humbles me to receive this recognition."
— Steven J. Thompson '77, PharmD
California Society of Health-System Pharmacists Pharmacist of the Year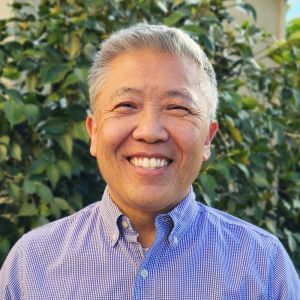 "Pacific has meant so much to me. I was the first of my family to go away to college and the first to complete a professional degree."
— William "Bill" Yee '83, PharmD, FASHP, FCSHP
CSHP - Central Valley 2023 Kelli Haase Memorial Pharmacist of the Year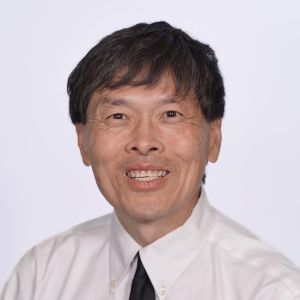 "I am honored, humbled and still in a state of shock. To be included within the ranks of leaders who I personally met and knew of when I was a UOP student is incredible."
— Christopher Allen Woo '88, PharmD, FCPhA
California Pharmacy Hall of Fame inductee
Alumni advocate for transitions of care
Kevin Komoto '08, PharmD, MBA, Navi Braich '11, PharmD and Diana Hang '17, PharmD, APh champion transitions of care programs to reduce hospital readmission rates and health care costs — and ultimately save lives.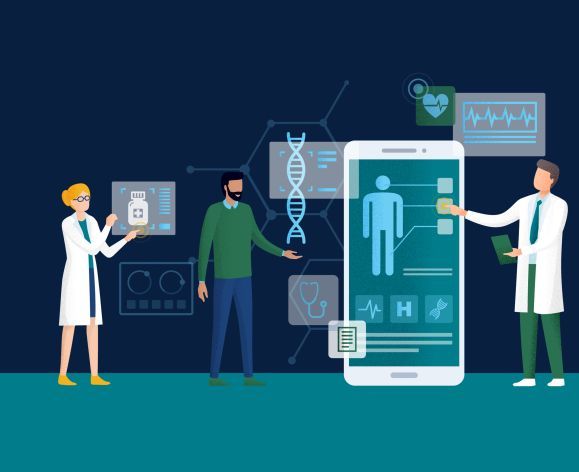 Be in the next issue
Did you start a new job or earn a promotion? Get married or welcome a new addition to your family? Share the news with your fellow alumni.
Get help bringing your ideas to life
The Jie Du Center for Innovation and Excellence for Drug Development promotes innovation in drug development through education, training and mentorship. Gain skills in pharmaceutical regulation, entrepreneurship and business. Programs offered at the Center are open on a non-credit basis to alumni and scientists currently working in the industry.