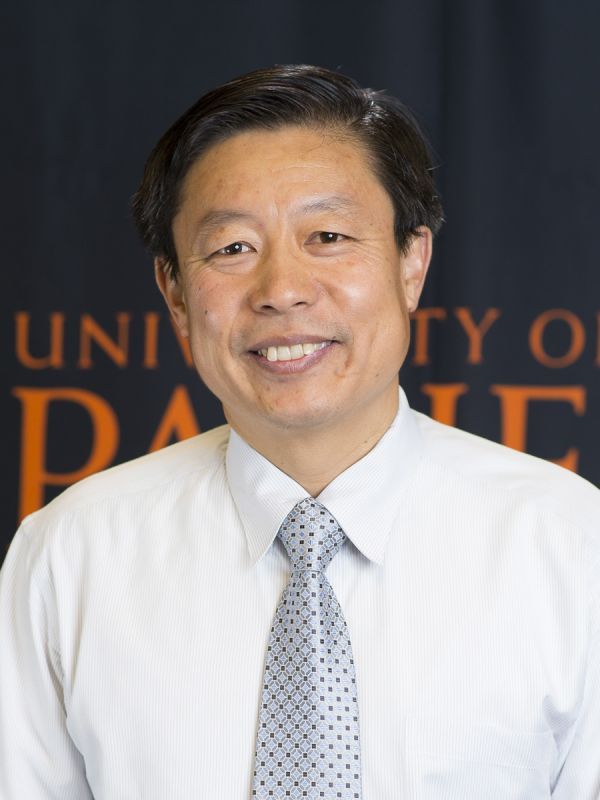 At Pacific Since: 1993
Xiaoling Li, PhD earned a bachelor of science in pharmacy in 1982 and a master of science in nuclear pharmacy in 1985 from Shanghai First Medical College in China. In 1991 Dr. Li received his doctor of philosophy in pharmaceutics from University of Utah. He also completed two years of post-doctoral training at Ciba-Geigy Corporation, now known as Novartis. Dr. Li joined the Pacific Pharmacy family in 1993.
In 2012 Dr. Li received the highest award bestowed on a Pacific faculty member, the University Distinguished Faculty award. His accomplishments include chairing or moderating four symposiums and peer reviewing 15 professional journals. Dr. Li has also published 84 peer reviewed papers and more than 140 abstracts. He has been invited to present at over two dozen national and international conferences. He is actively involved in the Association of American Pharmaceutical Scientists (AAPS), the Controlled Release Society, the American Chinese Pharmaceutical Association and the Sino-American Pharmaceutical Association.
While at Pacific he has trained multiple doctor of philosophy candidates, post-doctoral researchers and visiting scholars. He loves the positive teaching environment at Pacific where faculty can interact with a diverse group of professional students and graduate students.
He is a Fellow of both the AAPS and the American Institute for Medical and Biological Engineering. In 2015 Dr. Li was recognized by the AAPS for his outstanding leadership. The honor of the AAPS Outstanding Educator Award, sponsored by Biogen Idec, is bestowed upon individuals "who have made extensive contributions to the teaching of pharmaceutical sciences." The award, which is presented every two years, brings national recognition to the quality of education provided by the dedicated Pacific faculty.
Dr. Li did not choose to study pharmacy. He was among the first class of college students after the Cultural Revolution in China. It was the first time in 10 years that people were being admitted to college, but acceptance was determined by the results of an examination. Dr. Li was selected by Shanghai Medical University and assigned to the pharmacy program.
Education
BS in Pharmacy, Shanghai Medical University, 1982
MS in Nuclear Pharmacy, Shanghai Medical University, 1985
PhD in Pharmaceutics, University of Utah, 1991
PostDoc, Ciba-Geigy Corporation (Novartis)
Teaching Interests
Teaching Philosophy
"It takes effort and hard work to excel in learning."
Courses
PHRM 114 — Physical Pharmacy and Dosage Forms
PCSP 203 — Information and Laboratory Management
PCSP 224 — Diffusion in Pharmaceutical Sciences
PCSP 287/387 — Internship
PCSP 297/397 — Graduate Research
PCSP 299 — Thesis Research
PCSP 399 — Dissertation Research
Research Focus
Research Interests
Antibody mimics
Peptide-drug conjugates
Cancer targeted drug delivery
Transbuccal/sublingual drug delivery
Solubility and solubility enhancement
Mechanisms of drug permeation through biological membranes
Design and synthesis of novel polymers for pharmaceutical applications
Scholarly Activity
Yu Zheng '13, PhD, Feihuang Deng, Bo Wang, Yue Wu, Qing Luo, Xianghao Zuo, Xin Liu '13, PhD, Lihua Cao, Min Li, Haohui Lu, Senping Cheng, Xiaoling Li, PhD published "Melt extrusion deposition (MED™) 3D printing technology – A paradigm shift in design and development of modified release drug products" in the International Journal of Pharmaceutics, June 1, 2021.