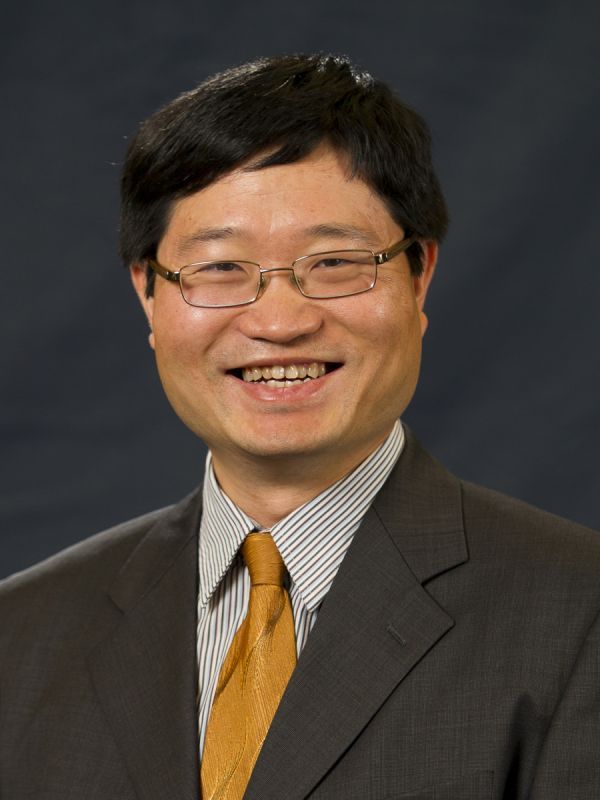 At Pacific Since: 2003
Xin Guo, PhD earned his bachelor of science in medicinal chemistry from Fudan University in Shanghai, China in 1993 and his master of science in medicinal chemistry from Duquesne University School of Pharmacy in Pittsburgh, Pennsylvania in 1995. He earned his doctor of philosophy in pharmaceutical chemistry from University of California, San Francisco in 2001. Dr. Guo has been a part of the Pacific family since 2003.
As a Pacific faculty member, Dr. Guo loves the opportunity to give energizing lectures on medications and to mentor pre-pharmacy students. He also enjoys being involved in the Beta Omega chapter of the Rho Chi Honor Society because of the youthful exuberance and team spirit of the students. His goals are to inspire students, advance science in drug delivery and help Pacific excel in the field of pharmaceutics and medicinal chemistry.
Dr. Guo is a member of the American Association of Pharmaceutical Scientists and has served as Chair for the organization's Bay Area Discussion Group. In addition, he is a member of the American Chemical Society.
He enjoys singing, traveling and playing chess. He is a member of his church choir and is a small group leader.
Education
BS, Fudan University, 1993
MS, Duquesne University, 1995
PhD, University of California, San Francisco, 2001
PostDoc, Buck Institute of Age Research and University of California, San Francisco, 2001-2003
Teaching Interests
Teaching Philosophy
"To inspire the students to learn actively and to think deeply."
Courses
PHRM136 — Pharmacology and Medicinal Chem II
PRAC149 — Peer Tutoring and Mentoring
PHRM 191 — Independent Study
PCSP213 — Biotransformation of Pharmaceutical Agents
PCSP 229 — Advances in Drug Delivery Systems
PCSP 297/397 — Graduate Research
PCSP 299/399 — Thesis/Dissertation
Research Focus
Research Summary
"My research group is interested in developing smart, nanometer sized formulations that carry medicines to their target sites in the body to enhance their therapeutic activity and safety. Our current projects include the design of liposomes with a pH-sensitive conformational switch for triggered release of anticancer drugs in solid tumors, and liposome-coated phosphate nanoparticles for the delivery of proteins into the cytosol. We employ various physical, chemical and biological approaches to design and characterize such novel drug formulations."
Research Interests
Novel pH-sensitive liposomes for the delivery of small-molecule drugs, proteins and nucleic acids
Anticancer drugs and their liposomal formulations for drug targeting
Design, preparation and characterization of pH-sensitive cationic lipids for gene delivery
Liposome formulation of anticancer peptides and proteins
Liver-targeting lipidic particles based on recombinant high density lipoprotein
Protein-folding studies using chemical crosslinking coupled with mass spectrometry

Scholarly Activity
Ruiqi Huang '20, Vijay Gyanani '13, PhD, Shen Zhao '18, PhD, Yifan Lu '19, PhD and Xin Guo, PhD, professor of pharmaceutics and medicinal chemistry, published "Imidazole-Based pH-Sensitive Convertible Liposomes for Anticancer Drug Delivery" in Pharmaceuticals 2022, March 3, 2022.
Xin Guo, $3,200 University of the Pacific Scholarly Artistic Activity Grant "Nanometer Assemblies of Drug Molecules versus Micrometer Clusters of Cancer Cells: Putting Scientific Innovations to Clinical Challenges."
Yingbu Huang, Yifan Lu, Mallika Vadlamudi, Shen Zhao, Melanie Felmlee, Roshanak Rahimian, Xin Guo "Intrapulmonary inoculation of multicellular spheroids to construct an orthotopic lung cancer xenograft model that mimics four clinical stages of non-small cell lung cancer" J Pharmacol Toxicol Methods. Jun 2020
Yunzhou Fang, Mallika Vadlamudi, Yingbo Huang, Xin Guo "Lipid-Coated, pH-Sensitive Magnesium Phosphate Particles for Intracellular Protein Delivery" Pharmaceutical Research, June 2019.
Liu, X.; Zheng, Y.; Samoshina, N.M.; Franz, A.H.; Guo, X.; Samoshin, V.V. Fliposomes: pH-triggered conformational flip of new trans-2-aminocyclohexanol-based amphiphiles causes instant cargo release in liposomes. J Liposome Res. 2012 Jul 9. [Epub ahead of print]
Chen, H.; Zhang, H.; Thor, D.; Rahimian, R.; Guo, X. Novel pH-sensitive cationic lipids with linear ortho ester linkers for gene delivery. Eur J Med Chem 2012, 52:159-72.
Zheng, Y.; Liu, X.; Samoshina, N. M.; Chertkovc, V.A.; Franza, A. H.; Guo, X.; Samoshin, V.V. Fliposomes: pH-controlled release from liposomes containing new trans-2-morpholinocyclohexanol-based amphiphiles that perform a conformational flip and trigger an instant cargo release upon acidification. Nat Product Comm. 2011. 6, 1-3.
Samoshina, N.M.; Liu, X.; Brazdova, B.; Franz, A. H.; Samoshin, V.V.; Xin Guo, X. Fliposomes: pH-Sensitive liposomes containing a trans-2-morpholinocyclohexanol-based lipid that performs a conformational flip and triggers an instant cargo release in acidic medium. Pharmaceutics 2011, 3(3), 379-405.
Brazdova, B; Zhang, N; Samoshin V. V.; Guo, X. trans-2-Aminocyclohexanol as a pH-sensitive conformational switch in lipid amphiphiles. Chem Comm. 2008. DOI:10.1039/B807704E.
Chen, H.; Zhang, H.; McCallum, C.M.; Szoka, F. C.; Guo, X. Unsaturated cationic ortho esters for endosome permeation in gene delivery. J Med Chem. 2007, 50, 4269-78.