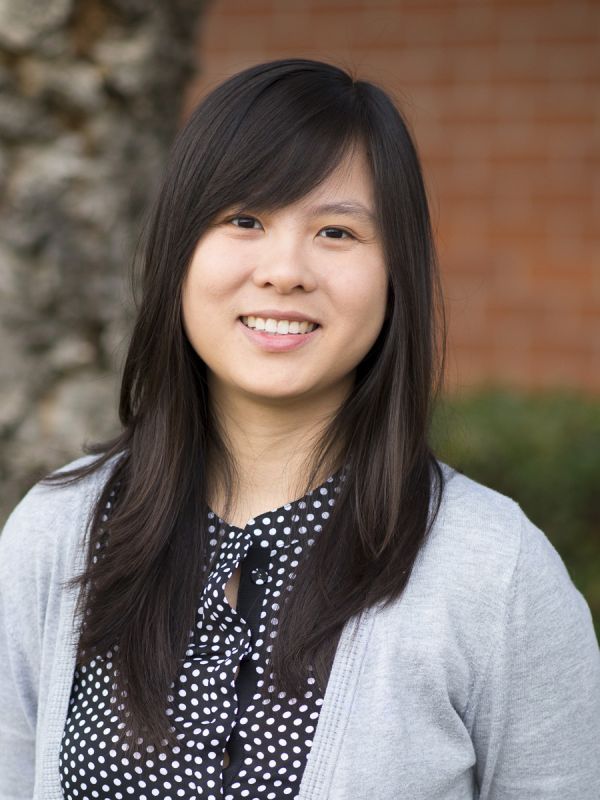 Associate Professor
Regional Coordinator - Stockton
At Pacific Since: 2015
Yvonne Mai '13, '15, PharmD, MS, BCGP, BCACP  earned her doctor of pharmacy from University of the Pacific in 2013, where she also completed a fellowship in pharmacoeconomics, health care outcomes and clinical services. She joined the Pacific faculty in 2015.
Dr. Mai serves on the Board of Directors and is a member of the San Joaquin chapter of the California Society of Health-System Pharmacists. She was originally drawn to pursue a career in health care with a focus on medication management because she wanted to empower and educate the underserved. Her research is focused on health outcomes of pharmacist provided services. She also evaluates innovative services or practice models to improve outcomes in the underserved and Medicare population.
Dr. Mai is originally from San Jose. She enjoys being outdoors and her favorite place to go hiking is north of San Francisco at Point Reyes. It is her goal to visit over 50 countries in her lifetime.
Education
PharmD, University of the Pacific, 2013
Fellowship in Pharmacoeconomics, Health Care Outcomes and Clinical Services, University of the Pacific, 2015
Teaching Interests
Teaching Philosophy
"My philosophy is rooted in my belief that active and problem-based learning are the most effective approaches to molding student pharmacists into independent, practice-ready clinicians. These two student-centered teaching methods allow students to reach the higher levels of Bloom's Taxonomy, enabling them to better apply their knowledge in real practice situations. My teaching style focuses on relating information to real experiences and case-based scenarios. I believe students are able to elevate their level of critical thinking when given cases to work through individually and collaboratively. My objective is to have students become independent thinkers and develop solutions to complex clinical situations. Active learning is also essential in identifying weaknesses in students' knowledge database or thought processes, which can serve as a guide to areas that need further concentration. Addressing weaknesses is critical in cultivating the growth of student pharmacists into better professionals. The original Socratic Method, fish bowl, and work at the blackboard are active learning techniques that I've employed in my courses. These methods allow students to interact with the material as well as their peers to develop solutions to real clinical situations. I deeply believe that transforming students' learning attitudes to take ownership of their own learning is essential in pharmacy education where information is constantly evolving. To accomplish this, I fashion active learning exercises that require students to use their investigative skills as well. Through this process, students become researchers and are able to exercise their analytical abilities to answer drug information questions. I strive to foster an environment that encourages the exchange of knowledge among peers through presentation and discussion of these research topics."
Courses
PHRM 184/5 — Family Medicine APPE
PHRM 172 — Ambulatory Care APPE
PHRM 160 — Ambulatory Care IPPE
PHRM 175 — Capstone I
PHRM 176 — Capstone II
Research Focus
Research Interests
Health Outcomes of Pharmacist Provided Services
Innovative Services or Practice Models to Improve Outcomes in the Underserved and Medicare Populations
Scholarly Activity
Carr-Lopez SM, Strohecker L, Mai Y, Miyahara RK, Shek A. Veterans Affairs Collaboration for Medication Safety Introductory Practice Experience Using Remote Access to Health Records. [published online ahead of print, July 2020). American Journal of Pharmaceutical Education, ajpe7664; DOI: 10.5688/ajpe7664
Sullivan LK, Ellison J, Wong S, Mai Y, Choi R. Evaluation of pharmacist-led strategy to reduce outpatient fluoroquinolone prescribing from the emergency department. J Am Pharm Assoc (2003). 2020 Nov-Dec;60(6):804-808. doi: 10.1016/j.japh.2020.03.023. Epub 2020 Apr 30.
Wen J, Chung HJ, Mai Y. Pharmacist Impact on Patient Outcomes in a County Chronic Pain and Addiction Clinic. CJHP. July/August/September 2019.
Mai Y, Law E. Implementing a Layered Learning Model into Introductory Pharmacy Practice Experiences and Advanced Pharmacy Practice Experiences to Minimize Impact on Preceptor Workload. Northern California College of Clinical Pharmacy (NCCCP) - the NorCal Chapter of ACCP A Peer-Reviewed Publication. April 30, 2019 |Volume 6 | Issue 1
Boyce EG, Rogan EL, Vyas D, Prasad N, Mai Y. Sarilumab: Review of a Second IL-6 Receptor Antagonist Indicated for the Treatment of Rheumatoid Arthritis. Ann Pharmacother. 2018 Aug;52(8):780-791
Boyce EG, Mai Y, Pham C. Abaloparatide: Review of a Next-Generation Parathyroid Hormone Agonist. Ann Pharmacother. 2018 May;52(5):462-472.
Patel RA, Walberg MP, Mai Y, McElroy N, Mallya A, Kim A, Seo J, Woelfel JA. Medicare Part D Plan Optimization: The Need for an Annual Check-Up." AM J Pharm Benefits. 2015; 7(2): 84-91